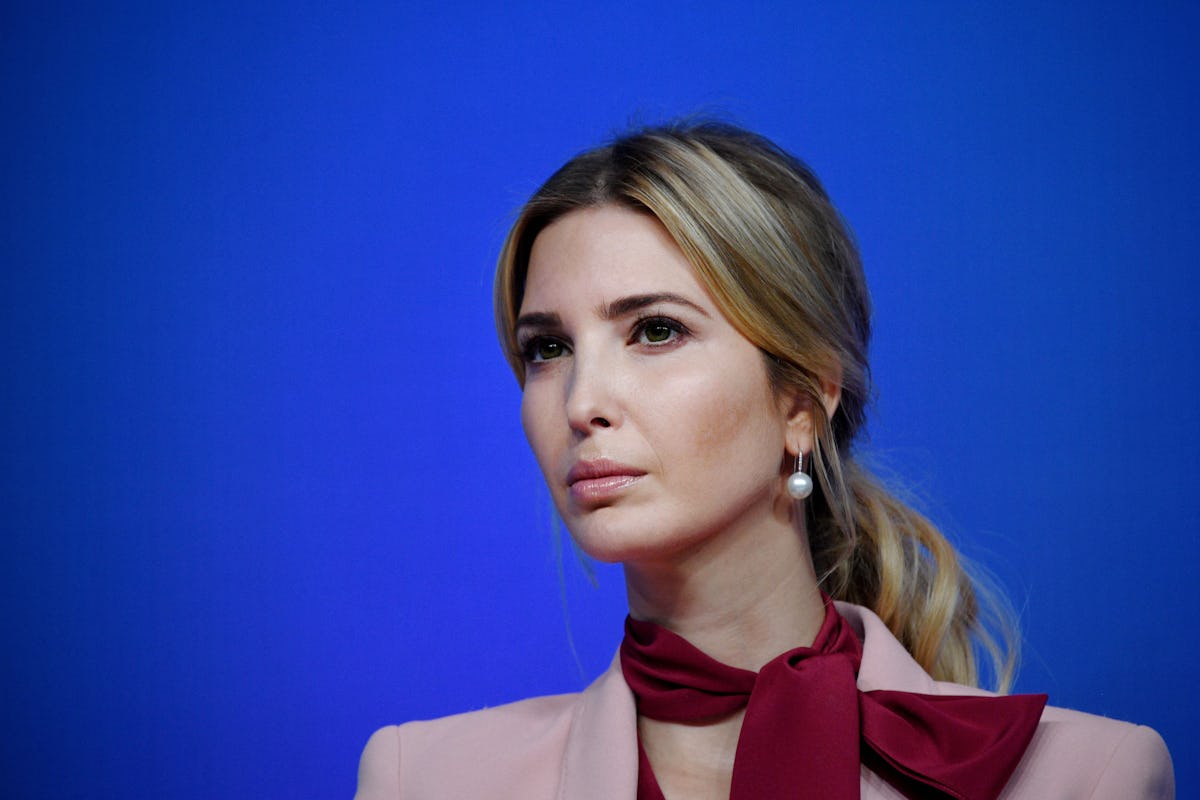 Ivanka Trump's Short, Sad Spotify Playlist Is Making Us Really Worried About Her
JIM WATSON/AFP/Getty Images
First daughter and special aide to the president (and wife of fellow White House Aide Jared Kushner) Ivanka Trump has worked very hard on her upbeat wife, mother, and entrepreneur brand. Trump, she would have us believe, does it all — with a smile at that. Questionably authentic feminist-businesswoman brand aside, Ivanka Trump's sad Spotify playlist has us wondering: girl, you OK?
The Huffington Post's Ashley Feinberg — who earlier this year found what is likely James Comey's secret Twitter account — discovered a 21-minute playlist on Oct. 25 that might be Trump and husband Kushner's anniversary sex playlist.
And it is boring. And depressing as hell.
As Feinberg pointed out, Trump made the playlist on Oct. 15 — ten days before Trump's and Kushner's Oct. 25 anniversary. Ooooh!
Feinberg isn't just making a lazy connection. She did the math. In her research for this v. important, breaking story, Feinberg discovered how important music is to Trump. She dug up a 2013 magazine interview in which Trump discussed making a playlist for the birth of her first kid, Arabella — complete with a meaningful moment in which Arabella decided to crown as the Kushners' wedding song played.
So, obviously this means the milquetoast, ethically dubious power couple is going to bone down to some break-up music.
Trump's cryptically-named "991122" playlist features songs like James Blunt's 2004 hit, "You're Beautiful," in which a man is so dissatisfied with his own life that he projects all of his pathetic fantasies onto a strange woman, and Adele's "When We Were Young," a melancholy ode to an ex.
There are also two John Legend tracks, and, of course, Bruno Mars's "When I Was Your Man."
Odd choice, but also, at the same time, it kind of makes sense? Trump and Kushner seem like that special kind of unoriginal — the type to dance to "At Last" and "Every Breath You Take" and the "Cha-Cha Slide" at their wedding and have a gender reveal party.
She and Kushner could be having one last bonanza — lights off, thank you — before they call it splitsville and divide their hundreds of millions in assets and poorly managed rental properties.
But there is also a strong possibility that Trump does not understand the song lyrics, and just hears the words, "love" and "beautiful" and "you" and jumps to conclusions. Especially given that, as VICE's Eve Peyser has pointed out, Trump doesn't understand words?? Throw music over top, and I'm sure someone who doesn't know what "otherwise" means in day-to-day conversation would be understandably confused.
Another theory: this isn't her boning playlist but her pity playlist.
You know the one: you listen to it while in sweats, hair unwashed, downing glass after glass of ~heart healthy~ wine and quietly mouthing along to the words. Tears streaking down cheeks and your roommate — in this instance, Kushner — looking at you like a wild animal that shouldn't be approached. Not to assume that Trump would ever wear sweatpants, but, you know. Just a thought.
My sad playlist, for instance, is just "Someone Like You" by Adele 13 times in a row, with some Purity Ring in there to really amplify my depressive symptoms.
What could possibly make Trump sad? She could be mourning the death of her pseudo-feminist brand, or grieving over the loss of her title as "Moderating Influence to Angry President Father."
Anyways, if Trump is sad, or if she and her husband do naughty things to break-up songs, the fact of the matter is that something smells rotten in the kingdom of Denmark. There is something decidedly off about someone who elects to listen to James Blunt in 2017.