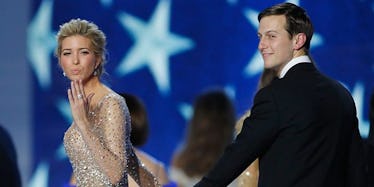 Jared Kushner's Net Worth Will Make You So Jealous
Aaron P. Bernstein/Getty Images
If you're wondering how much Jared Kushner's net worth amounts to, you don't have to do much guessing anymore. Because he's an official member of the White House's staff, Kushner was required to fill out a financial disclosure form, the contents of which are made public. According to that disclosure, Kushner and wife Ivanka Trump are worth up to a combined $740 million, ABC News reports.
Kushner and Trump owe much of that net worth to real estate. As the daughter of President Donald Trump, the source of Ivanka Trump's wealth is very much well known. Kushner's story may be a little less so.
Kushner is the son of 63-year-old real estate magnate Charles Kushner, who at one point owned 25,000 apartments across the northeast. Between Kushner, his brother Josh, and his parents Charles and Seryl, the Kushner family is worth at least $1.8 billion, according to an estimate from Forbes.
Forbes further estimates that the vast majority of that wealth ($1.15 billion) is owed to real estate, with the second-highest contributor to the figure being cash and venture capital investments.
Kushner's White House role hasn't only resulted in more public knowledge knowledge of how much he's worth, though. It's also resulted in more attention and knowledge of what he spends that wealth on.
There are minor and significant examples to cite.
For instance, the White House senior advisor was charged with a fine by the Office of Government Ethics because Kushner failed to report one of his financial transactions early enough.
When it comes to more enjoyable expenses, both Kushner and Trump own an art collection reportedly worth up to $25 million, according to Business Insider. And as for their living expenses, Kushner and Trump secured a new home in Washington D.C. before moving to the nation's capital to work in government.
Coincidentally, the couple's D.C. home rests just two blocks away from former President Barack Obama's new home in the wealthy neighborhood of Kalorama.
Now imagine that housewarming.