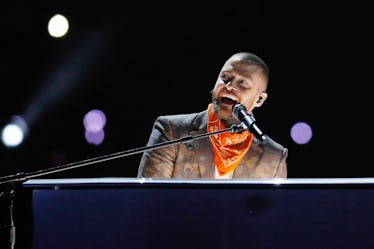 8 Love Songs To Listen To With Bae This Valentine's Day
Kevin C. Cox/Getty Images Sport/Getty Images
Do you feel like music sets the mood for pretty much every aspect of your life like I do? For me, working out equals upbeat music, taking a luxurious bath equals soft, meditative music, and cooking dinner equals calming, light-hearted music (so that way, when I burn the entire meal, I don't end up throwing the pan at the wall). And holidays are no different for me, either. I can't imagine Christmas time without "Jingle Bell Rock," and I certainly can't imagine Halloween without playing a little "Monster Mash." But Valentine's Day is different, because there's a million songs about love and romance that can be on your playlist. So, instead of resorting to Google to try and find the perfect song to play while you spend some time with your S.O., why don't you do yourself a favor and check out these 2018 love songs for Valentine's Day that we've put together? That way you spend less time on your laptop, and more time on someone's lap, if you know what I mean.
Whether you're getting all dressed up to go out to a fancy-schmancy dinner, or splurging on a nice bottle of champagne to drink at home, or even just getting ready to Netflix and chill, make sure you listen to these love songs below. Your Valentine (and your earbuds) will undoubtedly thank you.
1. "Hers (Interlude)" by Justin Timberlake
Hot off of Timberlake's Man of the Woods album, this song is technically an interlude, but it's pretty much the best damn interlude I've ever heard. Sure, this song doesn't actually feature Timberlake at all — rather, it features Jessica Biel talking about Timberlake — but that doesn't stop it from being a fantastic song for a romantic holiday such as Valentine's Day.
2. "Perfect" by Ed Sheeran, feat. Beyoncé
Ed Sheeran is the modern day crooner, so it's no surprise that the song "Perfect" is a beautiful melody that's very reminiscent of Eric Clapton's "Wonderful Tonight." But then throw in Beyoncé and this song is in a league entirely on it's own. Because Beyoncé.
3. "The Night We Met" by Lord Huron
Made famous for it's appearance in the Netflix show 13 Reasons Why, Lord Huron's "The Night We Met" was released in 2017 and has a hauntingly beautiful sound to it. For best results, play it while slow dancing with your partner in your kitchen.
4. "For You" by Rita Ora and Liam Payne
Yes, this song is from the Fifty Shades Freed soundtrack. No, that doesn't mean you have to act out the entire movie. Unless, you know, you want to.
Then by all means, have at it, people.
5. "Criminal" by Miguel
There's nothing sexier than listening to a song by Miguel. His voice is silky smooth, and his lyrics will actually make you thirsty. Be sure you have a glass of water nearby to hydrate after listening to this one, you guys.
6. "Visions of Gideon" by Sufjan Stevens
Featured in the movie Call Me By Your Name, this song is a soft, sweet track that will take your breath away. Sufjan Stevens has been killing the music game nearly two decades now, and this song proves that he's not slowing down anytime soon (thank God).
7. "Adore" by Amy Shark
This song just gives me all of the feels. It's got this old school, vintage feeling to it, but also feels so relevant at the same time. Long story short: You may end up playing this song on repeat throughout the night, and you still won't get sick of it.
8. "All The Stars" by Kendrick Lamar and SZA
End Valentine's Day on a high note and play this song, which will leave you straight-up vibing.
Also, a quick PSA: There may or may not be a spontaneous dance party on the coffee table.
So, whenever you're done jamming out to this playlist, head on over to your couch and binge watch some Valentine's Day episodes from your favorite TV shows.
Best. Night. Ever.