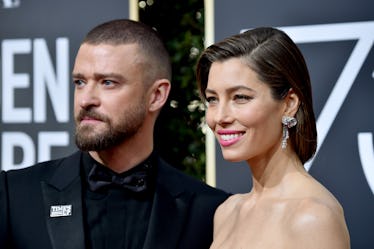 Jessica Biel Has Her Own Song On Justin Timberlake's 'Man of The Woods' & It's Beautiful
Frazer Harrison/Getty Images Entertainment/Getty Images
Get ready to cry yourself a river, because Justin Timberlake is back with music that will totally make you feel things. His newest album, Man Of The Woods, was just released on Friday, Feb. 2, and the songs will bring you on a roller coaster of emotions. One song in particular that will have you tearing up is "Hers," and I guarantee it will be one of your faves from the album. The interlude is spoken word from Jessica Biel and it's beautiful. It's one of the many Jessica Biel references on Man Of The Woods that will have you reaching for some tissues.
Our man J.T. took to social media and blessed us with a teaser video for his newest Man of the Woods album, where he explained that the inspiration behind his new tracks were "personal." He said,
This album is really inspired by my son, my wife, my family, but more so than any album I've ever written, where I'm from. And it's personal.
The video shows Justin turning into some sort of sexy mountain man, wading in rivers and walking through fields like a boss, looking like he's contemplating life, and I don't know why, but it totally works. The trailer also features a woman's voice saying, "It feels like mountains. Trees. Campfires. Like Wild West, but now."
You feel like you're about to go on an adventure with Justin, and I'm feeling it. You can watch the video below:
Excuse me, just swooning a little bit over here.
As if the trailer didn't get us excited enough, Timberlake then released the 16 track titles from the album:
"Filthy"
"Midnight Summer Jam"
"Sauce"
"Man Of The Woods"
"Higher, Higher"
"Wave"
"Supplies"
"Morning Light" (Featuring Alicia Keys)
"Say Something" (Featuring Chris Stapleton)
"Hers" (Interlude)
"Flannel"
"Montana"
"Breeze Off The Pond"
"Livin' Off The Land"
"The Hard Stuff"
"Young Man"
We were introduced to a few of the songs from Man of the Woods — and were even gifted with music videos that have already been dropped (looking at you, robo-dance partying "Filthy" and the performed-live "Say Something") — before the album debuted, so I just want to personally thank Justin for that. But "Hers" was a song that was shrouded in mystery, without hearing any hint of what it's about until the release of the album.
And, now that Man of the Woods is here and we were able to listen to every damn song, "Hers" is just beyond epic. It's really an interlude, but probably deserves to be a song all on its own.
It's clear that this song comes from a personal place, and the words Biel says definitely ring true to that sentiment. She says:
When I wear his shirt, it feels like, like his skin over mine. And the little holes and tears and shreds on it are, are, are the, the memories of the past that I wasn't there for, but, that somehow I, I, I feel like I understand more when it's against my skin. It's an armor, like a barrier from the world. Like, our secret nobody else knows and I like that, you know? It makes me feel like a woman, it makes me feel sexy, it makes me feel...it makes me feel like I'm his
(I'm his, I'm his, I'm his, I'm his, I'm his)
And, just like "Hers," Timberlake's song "Montana" definitely has connections to his wife. The fact that the two have a home in the state of Montana makes it all the more obvious. Some of the lyrics go:
Couldn't get any better, huh, you and I here together, huh, love kicked in and hit us, huh, let your body tingle, uh
Come on, like that's not about Biel? If you're not yet sold, here's a bit more of the song:
Everything is heightened, we're feelin' vulnerable, I'm makin' you this vow, uh, that you can have it all, take whatever you want, take whatever you want
Some fans seem to agree to "Montana" is personal for Timberlake, because of all of the ties he has there with Jessica Biel:
While some straight-up feel that the entire album is about Biel:
Which probably isn't wrong.
Plus, Biel makes an adorable cameo in the music video for "Man of the Woods", where she and JT dance together in a country bar, and it is probably the sweetest thing you'll ever see in your life:
#CoupleGoals, amirite?
Justin Timberlake has always been vocal about how marrying Biel was basically the best decision he's ever made, and I think that this album definitely digs deeper into his personal life than any album that he's made before. When he was in the studio back in October of 2017 (perhaps working on Man of the Woods), he took to Instagram to post a ridiculously sweet message to his wife. He said,
#TBT to a late night freestyle session on a break in the studio - YES I've been back in the studio cooking! But, today is even more special for me because five years ago, on this day, I became the luckiest man in the world when I exchanged vows with my best friend. This song was our first dance. To my beautiful @jessicabiel : You have taught me so much about what a true love means. I can't put into words what these last five years have meant to me, so... "Listen to the melody 'cause my love is in there hiding..." #Happy5thAnniversaryWifey#ASongForYou
BRB, sobbing.
If you haven't listed to "Hers" yet, I highly recommend you drop whatever you're doing for a moment and put those headphones in STAT.
Who am I kidding? Drop everything you're doing for the entire day and just listen to the Man of the Woods album on repeat.