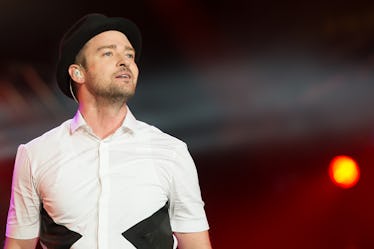 Justin Timberlake Shared The Tracklist For His New Album & The Songs Are So Emotional
Buda Mendes/Getty Images Entertainment/Getty Images
Justin is bringing sexy and his music back for the first time in a long time. The singer's newest album, Man Of The Woods, is scheduled to come out in early February, and it looks like we can expect some intense tunes. The first single, "Filthy," was released on Friday, Jan. 5, along with a sneak peek at the rest of the song titles. Justin Timberlake's Man Of The Woods tracklist is definitely emotional, and we are so ready for it.
JT released a video teaser for MOTW in early January, and the imagery gave us some serious nature vibes. Based on the language and visuals included in the video, it looks like Timberlake is literally and figuratively returning to his roots. He's always been very vocal about his love and appreciation for his hometown, Memphis, and it sounds like MOTW might be a tribute to his past.
In the teaser, Timberlake explains,
This album is really inspired by my son, my wife, my family, but more so than any album I've ever written, where I'm from. And it's personal.
Pharrell Williams also makes a quick cameo in the video. He says, "It feels so earthy. It's just where you are in your life right now."
Fascinating. Take a look.
Justin, what are you doing in that snow? Why are you in that pond? What did that mean cornfield do to you?
Now that Timberlake's shared the whole tracklist on his Instagram, we're having a ball reading into the song titles and trying to guess what each track is about.
The 16 song titles are:
"Filthy"
"Midnight Summer Jam"
"Sauce"
"Man Of The Woods"
"Higher, Higher"
"Wave"
"Supplies"
"Morning Light" (Featuring Alicia Keys)
"Say Something" (Featuring Chris Stapleton)
"Hers" (Interlude)
"Flannel"
"Montana"
"Breeze Off The Pond"
"Livin' Off The Land"
"The Hard Stuff"
"Young Man"
Yeah, right. We're sure your handwriting is that good, Justin.
Despite all of the nature undertones, the music video for "Filthy" has a much more futuristic feel. The lyrics for the song are totally steamy, and the music visuals are far from earthy.
In the video, Timberlake looks like a modern-day Steve Jobs, and introduces a dancing robot to a crowded auditorium. We learn he's actually controlling the robot from offstage and guiding it to bust out sexy dance moves and have steamy interactions with backup dancers. (Oh, yeah. The robot also has backup dancers.)
I'm not really sure I "get it," but you better believe I've already watched it four times.
Some of the sexy lyrics include:
I guess I got my swagger back
I said, put your filthy hands all over me
And no, this ain't the clean version
And what you gonna do with all that meat?
Cookin' up a mean servin'
No question, I want it
Fire up, everybody smokin'
Your friends, my friends
And they ain't leavin' till six in the morning (six in the morning)
Caught a chill, baby, you the coldest
Go far, put 'em on notice
If you know what I want, then yeah
Baby, don't you mind if I do, yeah
Exactly what you like times two, yeah
Got me singin', "ooh, ooh"
So baby, don't you mind if I do
Look, put your filthy hands all over me
And no, this ain't the clean version
And what you gonna do with all that beast?
When I leave the cage open
Huh, walk to me, uh
No question, I want it
Is it hot in here, or is it just that robot?
Whatever Timberlake has up his sleeve for the rest of Man Of The Woods, I'm all the way in. I mean, he's more like the MAN OF MY HEART, YA FEEL ME?!
Check out the entire Gen Why series and other videos on Facebook and the Bustle app across Apple TV, Roku, and Amazon Fire TV.