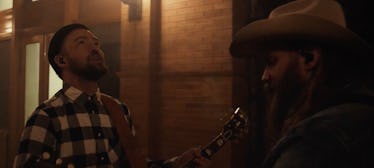 Justin Timberlake's Music Video For "Say Something" Is A Live Performance & It's Epic
YouTube
Justin Timberlake is back and better than ever, you guys. First, he told the world that his new album, Man of the Woods, would be dropping early February. Hell. Yes. Then he did us all a favor and released his first single, "Filthy," and people danced. Next, he released "Supplies," and it was intense. But now he just dropped the newest single, "Say Something," and released the music video. You guys. It. Is. Epic. Wanna know why? I'll tell you why. Because Justin Timberlake is a sweet-singing angel who has blessed us with amazing music. But also because Justin Timberlake's "Say Something" music video was done LIVE with country singer Chris Stapleton and believe me when I tell you that you will not be prepared for it.
Live, as in the entire video is totally unfiltered. His voice isn't pre-recorded. The guitar isn't just a prop. It's all totally, perfectly, organic and it is astonishingly beautiful.
The video, directed by La Blogothèque, shows a lumberjack-looking Timberlake dropping a background beat on some type of synthesizer in a gloomy-looking room. That's when our man J.T. picks up his guitar and walks out of the sparse room and into the hallway that leads to an equally gloomy (but also kind of gorgeous) building. He passes some musicians along the way (as one does) and rides in an old-school elevator, and ultimately meets up with Chris Stapleton. From there, they jam the hell out.
But towards the end of the video, this dark and dingy building basically turns into a beautiful music venue, with people on every floor joining in the song with Timberlake and Stapleton.
It's unlike anything we've ever seen from Justin and, if I'm being honest, this video is a breath of fresh air compared to the heavily-edited music videos we ordinarily see from pop stars.
Seriously, take a look below and tell me your mind isn't blown:
Mhm. Told ya.
Bravo to everyone involved in producing this, and bravo to J.T. for showing us something that's a little less futuristic dance party (looking at you, "Filthy") and something that's a little more unplugged.
When Timberlake posted a teaser video for his Man of the Woods album, he told the world that it would be a departure from what we normally saw from him. He said,
This album is really inspired by my son, my wife, my family, but more so than any album I've ever written, where I'm from. And it's personal.
And talk about personal: Timberlake revealed with Beats 1 Radio Show that his son, Silas, is the entire reason why he named the album Man of the Woods. He said,
I literally just went on Google like, 'meaning of the name Silas,' and it sent me to this to this site and it said, 'of Latin origin, meaning 'Man of the woods,' ... I was like, 'How serendipitous that my last is Timberlake,' like what does that mean?
Oh, don't mind me, I'm just sitting in a corner crying from the sheer perfection of all of this.
Honestly though, I can't wait to see what Timberlake will be releasing next, and hope that it takes a similar approach to "Say Something" by releasing music that's personal and emotional. Because I'm not gunna lie, this vid gave me goosebumps (the good kind).
If you're like me and want more Justin Timberlake, fret not, because we'll be seeing him perform at the 2018 Super Bowl Halftime Show and he'll be starting his Man of the Woods tour in Canada come March. So, basically, 2018 is the year that Justin Timberlake returns to the music... and our hearts, obviously.