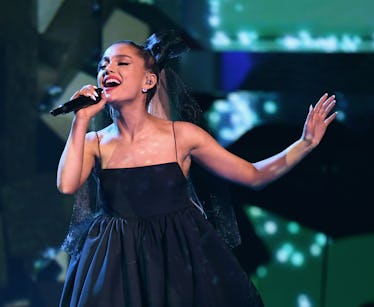 Ariana Grande Shared A Touching Update About How She's Doing & Fans Have Feelings
Kevin Winter/Getty Images Entertainment/Getty Images
Ariana Grande has been through a heck of a lot of stuff lately, most notably her breakup with her ex-fiancé, Pete Davidson. But that's not stopping her from connecting with her fans. After spending some weeks away from the spotlight following the death of her ex-boyfriend in early September 2018, Grande has revealed via Twitter that she's ready to hit the road. And fans are definitely excited about Ariana Grande's update about her Sweetener tour.
The 25-year-old singer took to her Twitter account on Monday, Oct. 22, to respond to a fan who asked about her Sweetener tour. What Grande revealed in her response has lifted fans' spirits as well as revealed how Grande is handling all that she's had to deal with over the past few months.
In a tweet, a fan asked, "any news about sweetener tour? if not pls don't stress about it ! we can wait / we want you to be actually ready to go on tour :)"
Grande responded with some exciting news. "I'm ready 🖤 my heart needs it actually," she wrote. "Finalizing a few more things but i'm tryna get em dates to u asap."
So, I guess that means the Sweetener tour is coming much sooner than anyone expected, which is great for Grande and her fans. It also seems like it'll be the perfect opportunity for Grande to get her mind off her recent troubles, or a therapeutic way to work through them. And you know what? That's a really constructive way of working through tough times, so good for her!
Here's how fans are reacting to the news:
If you haven't been keeping up with Grande's personal life, here's what you need to know: back in September 2018, her ex-boyfriend Mac Miller died suddenly of a reported drug overdose. Grande was obviously shaken by the news and that prompted her to take some time out of the spotlight. Then, a few weeks later, on Oct. 14, TMZ broke the news that Grande and her then-beau, Pete Davidson, had split.
In an Oct. 15 report from People, a source close to the situation revealed that Miller's death had a lot to do with Grande's decision to split from Davidson.
"It was devastating and shocking to her. It's had a huge, negative impact on her life. It made her rethink many things in her life," the source said. "She realized that planning a wedding right now felt very rushed. It's not what she wants to do right now. She doesn't want to make any rushed decisions and has decided to take a step back instead."
Elite Daily reached out to Grande's team about the report that Mac Miller's death played a role in her split from Pete Davidson, but did not hear back by the time of publication.
But it looks like Miller's death apparently made Grande take stock of her life and reassess what she wanted for the future.
Additionally, a source close to Davidson revealed that the former couple had much more on their plates than the average couple.
"They're dealing with things that people wouldn't have to deal with in a lifetime — an ex-boyfriend reportedly overdosing and having all of this fame and attention. These followers and living their lives on social media … it's a different world," the source said.
All in all, it seems as though the odds were kind of stacked against Grande and Davidson, which is definitely sad. Hopefully, things will start looking up soon for both of them.