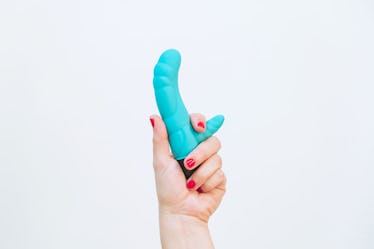 The Best Sex Toys For Your Anus That Prioritize Your Pleasure
When it comes to anal pleasure, it can feel intimidating to find the best sex toy for your anus on the first try. Don't worry, though — there are a ton of options for you, and many are likely to lead to a great a** time (pun intended). When shopping for toys, keep in mind that they should be specifically designed for the anus. According to Emily Morse, sexologist and the host of the podcast Sex With Emily, Anal toys need to have a handle or flared base to prevent injury from the toy. This is because, unlike the vagina, the anus does not have a roof and instead leads to your alimentary canal. To prevent anything making its way into your body (farther than it should), a handle or flared base that is bigger than your anus is exactly what you need to have a safe and great time.
When it comes to anal pleasure, if you're new at this — it's best to start slowly! According to Morse, "It's best to start off simply exploring the anal opening with your fingers, as there are so many nerve endings and it's crucial to get comfortable with touch to the area," says Morse. She also points out that lube is absolutely essential for anal stimulation, because the anus isn't self-lubricating like the vagina. Once you get the basics down, you're good to go!
For some backdoor fun, check out the following recommendations!