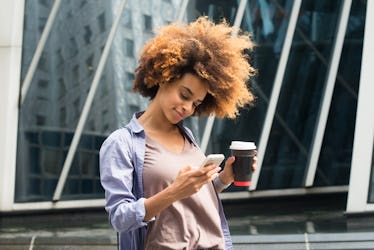 Leaving Someone On Read Can Do More Harm Than Good
It could be a red flag about you.
Have you ever watched the show The Good Place? In it, both heaven and hell are custom-made to best reward or punish you. If the afterlife is anything like that, my personal bad place is just a phone screen with all my texts marked read — and maybe the occasional disappearing typing bubble. If you've ever been left on read (or you've ever left someone on read), you know that not answering messages is a real strategy people use when dating. But does keeping someone on read even work? And does doing it make you, well, kind of a jerk? Because if you've ever been left on read, you know how much it can suck.
In case you're not up to speed on the lingo, leaving someone "on read" is when someone keeps their "read" receipts turned on in their iMessage and purposefully doesn't answer a crush's texts, so the sender knows it's been read and the recipient hasn't replied. The whole point is to make the sender wonder why they were left on read. "Humans seek resolution and clarity," Susan Winter, relationship expert, love coach, and author of Breakup Triage: The Cure for Heartache tells Elite Daily. "The partner who creates tension sets up a situation where you won't know where you stand. Yes or no? In or out? Do they like me? This dating game keeps one's prey on guard and insecure." It's a weird power game, but chances are you've been on one or both sides of it before.
Even if it's not the best feeling to be waiting on a reply, there is some value in seeming a bit unavailable and mysterious. For one thing, it keeps you from coming across as too "eager" and will rule out anyone who isn't willing to do a little work to win you over. But does it actually make the object of your affections want you more? To answer that, I reached out to the experts. Here's their take on why, (spoiler alert!) yes, it can work, but why it may not be worth it.
Ultimately, yes, leaving someone on read "works" to make you seem more desirable. But it also comes with the potential for a ton of baggage, so proceed with caution.
Experts cited:
John Keegan, dating coach and creator of The Awakened Lifestyle
Susan Winter, relationship expert, love coach, and author of Breakup Triage: The Cure for Heartache
This article was originally published on