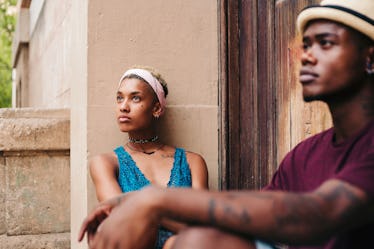 If Your Ex Said One Of These 4 Things, You Were In A Toxic Relationship
They say hindsight is 20/20, and TBH, nothing could be truer in regards to relationships. Once the wounds from a breakup have begun to heal, it's a lot easier to take an honest look at your relationship. You might realize what you could have done differently, or why you weren't actually compatible. But what if you start to suspect that your relationship was bad for your well-being? You might know that you were in a toxic relationship if it was constantly on-and-off again, or was particularly tumultuous. But as it turns out, you can also figure out whether you were in a toxic situation simply by recalling how your ex talked to you.
First, let's define what a toxic relationship is. According to Psychology Today, on a basic level, it's any relationship that's having a negative impact on you, whether physically, mentally, or emotionally. A relationship that is lacking in the basic principles (trust, support, etc.) may be toxic. Given that broad definition, it's safe to say that many of us end up in toxic relationships without even realizing it. That means it can be very challenging to recognize that you and your ex had a toxic bond.
"It can be difficult because you may start to feel responsible and part of the problem," says licensed clinical social worker Melanie Shapiro. "Plus, a toxic relationship can create anxiety and depression, and symptoms of these mental health issues (such as low mood, low motivation, negative thoughts) make it difficult to recognize toxic relationship patterns."
One way to tell is to think about things that your ex said to you. If any of the following phrases sound familiar, there's a good chance your relationship was toxic.