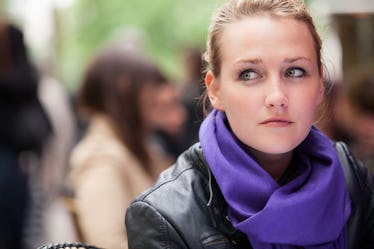 If You Notice Your Partner Doing These 4 Things, They Are Gaslighting You
Have you ever been in a argument with someone you were dating and started to genuinely wonder if you were losing your grip on your sanity, because the reality they presented and the one you experienced were completely out of sync? If so, there is a very good chance that you were being gaslighted, because beginning to doubt your own reality is one of the main things you'll notice if your partner is gaslighting you. If you aren't familiar with gaslighting, it is a form of manipulation that toxic partners use to control others.
"To 'gaslight' someone is to make them doubt that their thoughts, feelings, and actions [and that they] are so unfounded, unintelligible, and unsupportable that the person thinks that... they cannot trust their judgment [or are] losing their mind," Dr. LeslieBeth Wish, licensed clinical psychotherapist, relationship expert, and author of the new book Training Your Love Intuition, tells Elite Daily.
NYC relationship expert and love coach Susan Winter previously told Elite Daily that gaslighters employ this tactic to try and control their partners. "The systematic manipulation of gaslighting makes you doubt yourself, your intuition, and your reality," Winter explained. "This is the perfect foundation for anyone who wants control over your thoughts, and actions. The moment you no longer trust yourself... they have you where they want you. Throwing you off your 'center' is a necessity in order to have complete control."
This is why it's so essential to know how to spot the signs of gaslighting, even through all of the intentional confusion that comes with it. Here's what experts say you'll notice if someone you're dating is gaslighting you.