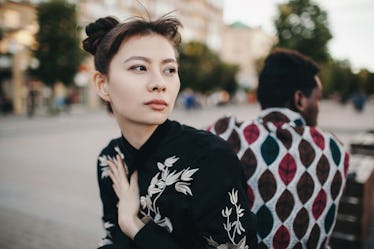 5 Signs Your Relationship Is Emotionally Abusive, According To Therapists
I have been in an emotionally abusive relationship, though if you were to ask me if I thought it was abusive at the time, I would have said, "Absolutely not. Sure, we have problems. Sure, I'm miserable and walk on eggshells constantly. Sure, I cry all the time and seem to have lost all my self esteem, but abusive? No way." Spoiler alert: I was wrong and all the signs were there. What I know now, but didn't know then, was that some of the most painful and damaging forms of emotional abuse are subtle. Sure, they can be loud and bombastic and completely obvious, but emotional abuse can also be a quiet, slow undermining of your confidence and psychological health, like I experienced.
For me, the emotional abuse didn't come in the form of shouting matches — rather it was the slow drip, drip, drip of gaslighting and subtle forms of contempt. It was also the fear that at any moment my partner would pull away and break my heart — again. Eventually, when we did separate, it took years for me to feel like myself again, and only then, when I fought to regain my confidence and self worth, was I able to (in hindsight) see the methodical way that my ex had undermined me and broken my spirit. I had always thought emotional abuse was screaming, and verbal cruelty, so I missed the red flags in my relationship. In honor of October's Domestic Violence Awareness Month, and to make sure this doesn't happen to you, I reached out to therapists to ask what signs to look out for if you suspect your relationship is emotionally abusive. Here's what they had to say.