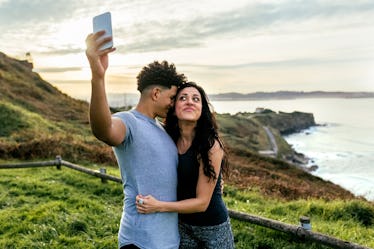 After Becoming Instagram Official, Watch Out For These 4 Red Flags
While you and your boo are racking up the likes URL, you probably still want to make sure everything is going smoothly IRL. If you and your partner have recently gone public with your relationship or you've been dating for a while but just posted your first pic, it's natural to wonder how to spot any potential red flags after becoming Instagram official. Posting about your blossoming love on social media can be a super exciting step in your relationship, and knowing what to look out for can help keep everyone on the same page.
"IG serves as a public announcement to the world that you're a couple. Therefore, it's a big deal and should be approached with care," NYC relationship expert Susan Winter tells Elite Daily. "Expect commentary from 'Congratulations!' to 'Didn't know you broke up with Josh.' Most of the commentary will be positive but some could be negative."
Social media can be a great way to show your friends and family how happy you are with your boo. Still, knowing some healthy boundaries about social media in your relationship can be really important.
Here are four things you may want to lookout for after becoming Instagram official.