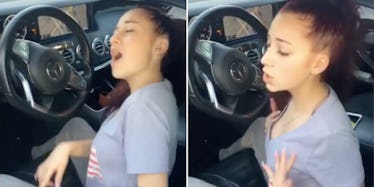 Everyone's Destroying 'Cash Me Outside' Girl Over Video Of Her In Driver's Seat
Instagram
There's definitely nothing weird about the "Cash Me Outside" girl's latest video.
Nope, she's just casually sitting behind the wheel of a car and singing her little heart out to Beyonce's "Irreplaceable," which is exactly how I spend most weekends.
Ah. Hang on. There is one teeny, tiny problem with the latest blessing bestowed upon us by the car-stealing, audience-threatening Danielle Bregoli.
She's 13 years old. Which, obviously, means she can't take her wheels out for a spin.
So, girl, WTF are you doing sitting in a driver's seat?
You're 13! You can't drive! How. Bow. Dah?
Luckily, this small problem in what is otherwise a glorious video didn't escape the attention of people on Instagram.
These heroes started calling out Danielle for, well, forgetting she's 13 and not actually able to drive the sweet ride anywhere.
Unless.
Unless we're all missing something here.
What if this is just a metaphor for her being in the driver's seat of life because she's absolutely crushing the fame game right now?
Since her savage first appearance on "Dr Phil" last year, it's safe to say things have changed for the teenager.
Though, according to her ridiculous police record (and most things that come out of her mouth), she's having trouble shaking off her hood rat ways.
These days life is very different for young Danielle. She's dishing out random threats to the Kardashians, telling the world she's "Hollyhood" and selling obscenely priced merchandise.
She's come a long way from "Cash me outside, how bow dah?"
For her part, Danielle seems to have chosen the song in her brand new vid very carefully, as it appears to be a message to her haters.
She captioned the video,
To the left, to the left to hatin hoes. Bhadbhabies be slaying.
These are, of course, not the original lyrics. We are sorry, Queen.
Want more of the 'Cash Me Outside' girl? Check out these stories:
'Cash Me Outside' Girl's Savage Oprah Diss To Dr. Phil Just Replaced 'Howbowdah'
'Cash Me Outside' Girl's Absurd Police Record Proves She Really Is That Savage
'Cash Me Outside' Girl's Instagrams May Be Even More Savage Than Dr. Phil Meme