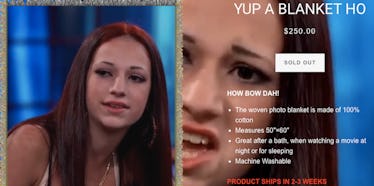 'Cash Me Outside' Girl's Selling An Ugly $250 Blanket And It's Already Sold Out
howbowdah.myshopify.com
Just look at Danielle Bregoli's smug, smug face.
She has every reason to be pleased with herself, too, because she's gone from "Cash Me Outside" to cashing out.
Like, we knew Danielle was raking in the bucks thanks to her infamous performance on "Dr Phil" where she, of course, told the studio audience,
Cash me outside, how bow dah?
These days, she mostly spends her time showing off how much dough she's raking in and hanging out with bodyguards.
But now we know where the money is coming from — because a blanket with the troubled 13-year-old's face on it, which was on sale for an outrageous $250, is now sold out.
Now, unlike my girl Danielle, I'm not a business expert. But I'm pretty sure selling out of blankets that cost 250 bucks each = $$$.
Aggressively described as "yup a blanket ho," it is apparently perfect for "after a bath, when watching a movie at night or sleeping," which is ironic because Danielle probably does none of those things.
What this means, of course, is we live in a world where humans are happy to shell out $250 of their hard-earned cash on a blanket, just because it has a viral star's face slapped on it.
It's hard to defend Danielle — who freely admits to stealing cars and is basically the worst role model imaginable — but her line of merch has clearly been a huge success.
Er, apart from being accused of ripping off a well-known brand, she has also sold out of $35 ceramic plates, so if you were hoping to eat dinner off the "Cash Me Outside" girl's face, you'd better wait for a restock.
Luckily, a line of pure bad bitch tees are still available in the store, as well as a jigsaw puzzle, because why not ho?!
She may be a a businesswoman with a successful clothing line now, but sadly, there's still no sign she's swapped her hood rat ways for anything even remotely classy.
Enjoy snuggling up in your new blanket, people with way more cash than sense.