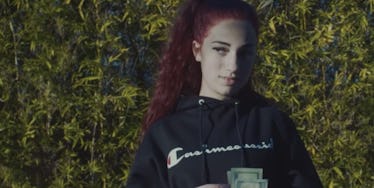 'Cash Me Outside' Girl's Selling Merch And She's Already In Trouble For Logo
YouTube
The "Cash Me Outside" girl's days of casually flicking dollar bills into the air may be coming to an end.
The 13-year-old Danielle Bregoli, who everyone is at least a little bit terrified of, has done a great job squeezing every last buck out of the hostile threat she infamously screamed at Dr. Phil's poor, unsuspecting audience.
The teen has even launched her own clothing line — but one of her designs seems to have landed her in hot water.
TMZ reports Hanes, who owns the brand Champion, believes Danielle and her mom have ripped off the famous "C" in the Champion logo.
And you can kinda see why it might think that…
How bow dah?
The Bregolis have reportedly received an angry letter from the company, telling them Hanes needs to protect its "extensive consumer goodwill and reputation."
And its given them a week to stop producing clothes using the "C" — and if they don't, well, things could get really ugly.
What makes things even more complicated is Danielle rocked one of the controversial hoodies in her terrible music video for Kodak Black.
It's not like the teen is new to trouble with the law — after all, the police have been called to her home 51 times in the last year.
But let's take a step back for a second here. The "Cash Me Outside" girl has merch.
MERCH, people!
In addition to tees that show off what a bad bitch you are, you can also curl up in a blanket with Danielle's terrifying face on it, or even solve a jigsaw puzzle of her giving Dr. Phil mad stank eye.
And don't worry, her online store is "official as fuck, ho."
Apparently not realizing she is profiting off her first appearance on "Dr. Phil" every single damn day, Danielle threw some major shade at the Doc himself when they met again last week.
In a wonderful twist of irony, she told him, "You were nothin' before I came on this show."
Stick to selling puzzles, kid.
Citations: 'CASH ME OUSSIDE' GIRL Catching Hell from Hanes FOR CASHING IN WITH CHAMPION LOGO (TMZ)