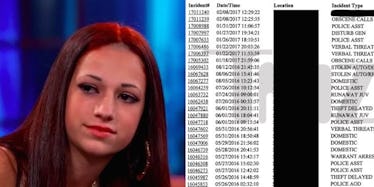 'Cash Me Outside' Girl's Absurd Police Record Proves She Really Is That Savage
Youtube/CAD
If you thought the "Cash Me Outside" girl, Danielle Bregoli, was done being the most savage 13-year-old on the face of the planet, think again.
Last year, Bregoli achieved Internet fame when she said, "Cash me outside. How bow dah?" on Dr. Phil's televised talk show and instantly became everyone's favorite new meme.
In addition to threatening the audience and adding a new "cash phrase" to our vocabularies, Bregoli also boasted about being just an all-around terrible child who gets into fights and commits crimes.
Bregoli recently made a second appearance on the talk show, where she told Dr. Phil she was still up to her normal hood rat activities.
Now, at first glance, the "Cash Me Outside" girl doesn't appear to look all that threatening.
So if you're like most people, you may question her claims about her lifestyle.
Well, it turns out the "Cash Me Outside" girl wasn't lying about her life of crime because Bregoli has an insane police record that proves she's just as savage as she claims.
Yep, police records indicate Florida cops have been summoned to the Boynton Beach home where Bregoli lives with her mother, Barbara Ann, a whooping 51 times in the last year.
Cash the police outside, how bow dah?
Bregoli's criminal record includes a long list of incidents like automobile theft, verbal threats, fraud and domestic offenses.
The CAD Incident Search Results obtained by TMZ show the teen has run away from home six times and was even reported missing on one occasion.
While most of the police visits occurred during the day, the log reveals Bregoli does act out in the middle of the night every now and then.
Bregoli's mother initially brought the troubled teen onto "Dr. Phil" as a last resort to change her bad behavior in the episode titled, "I Want To Give Up My Car-Stealing, Knife-Wielding, Twerking 13-Year-Old Daughter Who Tried To Frame Me For A Crime."
However, these records reveal Bregoli is still up to her usual shenanigans because her most recent run-in with the cops occurred just days before she appeared again on "Dr. Phil."
Based on these police records, I think it's safe to say we can expect a lot more savage behavior from the "Cash Me Outside" girl in the future.
Citations: Florida Cops Have Been Called To "Cash Me Ousside" Girl's House A Ridiculous Amount Of Times In 12 Months (Dude Comedy)