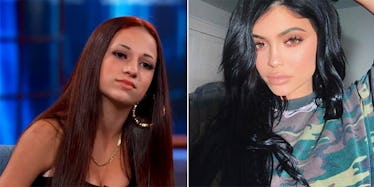 'Cash Me Outside' Girl Slams Kylie Jenner: 'I'll Whoop Every Kardashian'
GUYS, it's happened.
Since Danielle Bregoli entered our lives with the immortal "Cash me outside, how bow dah?" line, the world has been waiting for an encore.
Sure, we've had crazy music videos and her Dr. Phil diss, but now the angry 13-year-old has raised the bar -- and the world needs to look out.
The "Cash Me Outside" girl is coming at Kylie Jenner, Kim Kardashian and the rest of the Kardashian Klique.
Yes, a teen who rose to fame by stealing cars and threatening an entire studio audience is taking on one of America's most famous families, leading us all to ask a very important question...
...WTF?!
A video obtained by TMZ shows a paparazzo following Danielle "Cash Me Outside" Bregoli through LAX and, for reasons that are unclear, asking her about Kylie Jenner and the Kardashians.
I mean, he asks in the video,
Are you worried about Kylie Jenner coming back at you?
So, knowing young Danielle as well as we do, we can safely assume there's been some kind of bizarre threat before the guy started filming.
Anyway, that's all pretty irrelevant. The important part is it provoked big D into coming out with one of her best lines yet,
Bitch, I'll whoop every Kardashian that there is.
Well, DANG.
She even had a special message for Kylie, telling her,
Bitch, fuck her, fuck you, fuck yo' momma, fuck your clique.
Later in the convo, she fired shots at Queen Kim K for her infamous sex tape with ex-bae Ray J, saying,
She fucked Ray J and now she's famous.
Apparently, Danielle Bregoli doesn't realize the irony of coming at Kim and Dr. Phil over their fame, considering the way she came into our lives.
For the record, I am more terrified of Danielle than I ever thought I could be of a 13-year-old girl.
To the Kardashians: For once, I really, really wouldn't want to be in your shoes.
Citations: 'CASH ME OUSSIDE' GIRL I'LL WHIP ALL THEM KARDASHIAN ASSES!!! (TMZ)