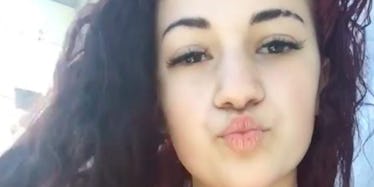 'Cash Me Outside' Girl's Officially Filming Own Show And It's Going To Be Savage
Instagram
Danielle Bregoli's "badass" attitude landed her way more than a segment on "Dr. Phil."
The 14-year-old is continuously owning the spotlight following her viral "Cash Me Outside" catch phrase, with controversial fights, music video releases and photo shoots.
We recently learned Danielle is already predicted to be a millionaire by the time 2017 comes to an end, but this is just the beginning for the newly-famous teen.
It looks like we'll be seeing Danielle on TV again in the near future because it's finally been confirmed she's getting her own reality show.
Danielle took a big step on Friday and signed a contract with a major TV production company for her own show, TMZ reports.
Of course, she'll be the star of it... how bow dah?
Apparently, no footage has been shot yet but producers are certain they'll be able to sell the concept for Danielle's show, and as much as it hurts to admit... we have to agree.
In just a few months, this chick's stirred up more drama than the Kardashians and every member of the "Jersey Shore" cast combined. She definitely has enough material for her own show.
It's been reported seven production companies have contacted Danielle's managers so far, and four of them have shown interest in a reality show starring her and her mom, Barbara.
Based off the drama between these two alone, there's no doubt in my mind the upcoming reality show is going to be a doozy.
I guess we'll have to wait and see what happens, but at least we know we'll be seeing Danielle's face on our TV screens in the future (and it won't be on "Dr. Phil.")
Want more of the 'Cash Me Outside' girl? Check out these stories:
'Cash Me Outside' Girl Has Troubling Response To Vid Of Brutal Fight With Mom
Leaked Video Shows 'Cash Me Outside' Girl Beat Up By Mom And We're Concerned
'Cash Me Outside' Girl Has Oddly Mature Reply When Asked If She's Dating Rapper
Citations: 'CASH ME OUTSIDE GIRL' CATCH ME ON THE TUBE, BITCHES!! (TMZ)