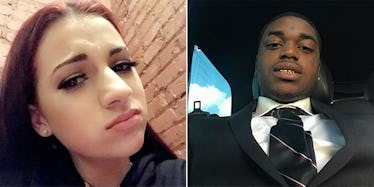 'Cash Me Outside' Girl Has Oddly Mature Reply When Asked If She's Dating Rapper
Instagram
People seem to forget the "Cash me outside" girl is just 13 years old.
To be fair, it can be easy to forget how young Danielle Bregoli is, especially since she just went and got a damn tattoo.
But at the end of the day, she's still just a kid — which makes her strangely grown-up response to a question about her private life even more surprising.
In a video obtained by TMZ, the paparazzi are hounding Bregoli, as one man mentions how often she hangs out with rappers.
She looks surprised and asks, "I do?" and when the man mentions Kodak Black, she responds, "I've never hung out with Kodak Black, ever."
At this point, the guy should no better than to push the issue — I mean, this is the most intimidating 13-year-old on the planet he's dealing with.
But instead, he asks her a super dumb question in a super dumb way: "Did you have like a thing or whatever?"
STOP RIGHT THERE.
This girl is 13 years old. Can we just try not to sexualize her, please?
Amazingly, though, Danielle also seemed to realize how creepy the whole thing was. She replied, "He's 19, God damn!"
OK, so the way she shouted it and flicked her head around like a bucking bronco doesn't exactly scream maturity, but I think she's handled this pretty well.
Obviously, she's a massive attention seeker, but rather than add fuel to the rumors, she just shuts it down right then and there.
Kudos, Danielle.
Of course, the paparazzi dude was assuming this because Danielle starred in a cringeworthy music video for Kodak Black last month.
I mean, this 13-year-old girl likes his music, so there must be something going on there, right? Wrong.
Danielle isn't dating Kodak Black, and never has, OK?
If you still don't believe her, you might cash her outside — and I guarantee that's not something you want to do.
Want more of the 'Cash Me Outside' girl? Check out these stories:
'Cash Me Outside' Girl Looks Like She's Got New Tattoo And It's Pretty Classy
'Cash Me Outside' Girl Back To Her Old Ways After Cops Break Up Fight With Mom
'Cash Me Outside' Girl Says She Was Duped Into Music Video By 'Scumbag' Rapper
Citations: DANIELLE BREGOLI One for the Ages I WON'T HANG WITH KODAK BLACK!!! (TMZ)