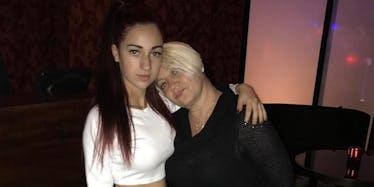 'Cash Me Outside' Girl Back To Her Old Ways After Cops Break Up Fight With Mom
Instagram
America's favorite train wreck Danielle Bregoli is making headlines again after an alleged domestic dispute with her mom.
The news comes just after the infamous "Cash Me Outside" girl's camp claimed a "scumbag" rapper named Stitches "tricked" the 13-year-old into collaborating on a music video and song.
According to TMZ, Danielle Bregoli went back to her old "pre-Dr. Phil days" after the police were called to her home in Florida to investigate a fight she had with her mom Barbara.
The report states Barbara Bregoli was kicking Danielle's 17-year-old friend out of their Boynton Beach, Florida home. The girl was said to be living with Danielle and her mom before things went south and she was told to leave.
Apparently, the forceful move on Barbara's part didn't sit well with Danielle and sparked a heated argument. When law enforcement officers arrived at their house, Danielle was allegedly heard cursing her mom out.
Fortunately for the Bregoli family, things never escalated or got violent while the police were around. Eventually, officers left the scene.
There's been no word on whether or not the 13-year-old used her famous line on her mom.
I'm going to go ahead and guess she probably did. At this point, she probably just blurts it out every five seconds. If she doesn't, that's OK because I do (make it stop).
While Danielle's most recent dispute with her mom may be shocking to some, you have to remember why this young girl is famous in the first place. She was on "Dr. Phil" for being "ungovernable" and "out of control," according to her mom.
It doesn't seem like much has changed in the "Cash Me Outside" girl's crazy life, you know, other than the fact she gets paid anywhere from $30,000-$40,000 just to show up places and challenge people to cash her outside.
Let that sink in.
Oh, and she has her own security team to fend off the flocks of people starving for a peek at her in public.
Thanks, America.
Citations: 'Cash Me Ousside' Girl: Cops Called To Keep The Peace... After Fight With Mom (TMZ)