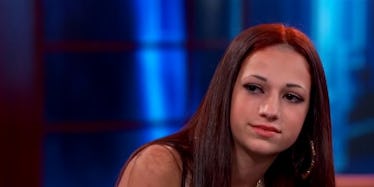 How Much Money 'Cash Me Outside' Girl Makes Will Destroy Your Faith In Humanity
YouTube
Are you ready to sob uncontrollably and question the reasons you willingly drag yourself to work every morning, hoping you'll be financially stable through the end of the month?
If not, allow me to quickly explain why you're about to lose faith in yourself and humanity within a matter of seconds.
It all has to do with Danielle Bregoli's, aka the 'Cash Me Outside' girl's, absurd income -- because the money she's currently raking in will make you cry.
Before I let you in on the excessive amount of cash the "badass" teen makes, let's just say she doesn't need anyone to "cash her outside" anymore.
If you're unfamiliar with the term that's quickly taken over the internet, good for you! Ignorance is bliss, especially in this situation.
But if you've been sucked into the whirlwind of the "Cash Me Outside" girl, you'll know Danielle as the terrifying 13-year-old who threatened the audience on "Dr. Phil," telling all the "hoes" in the stands to catch her outside.
After her big debut, Danielle was transformed into a meme that quickly took the internet by storm. Howbowdah?
Quite obviously, the teen soaked up the spotlight and took advantage of her newfound fame.
From selling controversial merchandise and a $250 blanket with her face plastered across the fabric to meet and greets across the country -- Danielle's been making bank.
But how much, to be exact?
Drumroll, please...
Danielle Bregoli, the 13-year-old girl who made a living off the term "Cash Me Outside," is making $30,000 or more per meet and greet.
Did you read that correctly?
The "Cash Me Outside" girl is making over $30,000 every time a crowd of people wants to meet her.
Yup. It's true. Give yourself a good cry and re-evaluate every life choice you've ever made up until this very moment because Danielle Bregoli is making more money than you are.
Apparently, the teenager is asking for a minimum of $30,000 for meet and greets in the US and $40,000 if she has to leave the country, TMZ reports.
Danielle is allegedly appearing at the Rolling Loud Music Festival in May, where she's expected to make even more than $40,000.
Let that sink in.
BRB, I'm going to go think of a good slang term I can slap on a meme so I can live comfortably for the next 50 years.
Want more of the 'Cash Me Outside' girl? Check out these stories:
'Cash Me Outside' Girl's Savage Oprah Diss To Dr. Phil Just Replaced 'Howbowdah'
'Cash Me Outside' Girl's Absurd Police Record Proves She Really Is That Savage
'Cash Me Outside' Girl's Instagrams May Be Even More Savage Than Dr. Phil Meme