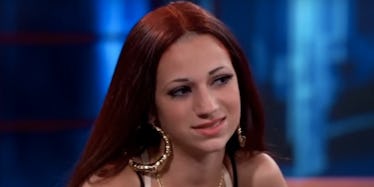 'Cash Me Outside' Girl Says She Was Duped Into Music Video By 'Scumbag' Rapper
YouTube
The drama never ends in the batshit crazy life of Danielle Bregoli.
The 13-year-old loose cannon, who first found fame after appearing on "Dr. Phil" where she was deemed "ungovernable," has been having a wild start to 2017.
Not only is she now globally known for her wild antics and infectious "cash me outside" catchphrase (or "cash-phrase," rather), but she can't really go anywhere without starting some shit.
Think about it.
If you were famous for constantly challenging people to fight out outside, life would be anything but easy. That much was made clear when Bregoli recently sparked a fight outside of a bar in Florida with her friends.
News of the brawl was followed by the "Cash Me Outside" girl's dad pleading for the world to help him gain custody of his daughter and take her away from Barbara Bregoli, whom he believes is having a negative impact on his daughter's life.
After that, Danielle's social media accounts were supposedly hacked by the "Illuminati."
And just when we thought things might be cooling down in her life, another report surfaces in which the "Cash Me Outside" girl claims she was duped into starring in a music video by a "scumbag" rapper named Stitches.
According to TMZ, Danielle Bregoli's team says the 13-year-old was "tricked" into collaborating with Miami-based rapper Stitches. Stitches says he meant no harm and simply helping her out with a gig.
Bregoli's camp recalled the rapper reaching out to work with her, but denied his "vague" request, according to the report.
After trying and failing, Stitches allegedly contacted one of Danielle's friends on social media and propositioned them. If they brought the infamous "Cash Me Outside" girl to him, he'd pay them.
Kim, a little help here?
As expected, the entire thing blew up in Stitches' face after her camp caught wind of the sneaky move. Stitches did get the 13-year-old to appear in the video, but it was done without the consent or knowledge of Bregoli's mother or management team.
A rep for Danielle Bregoli told reporters,
Stitches is a scumbag. He tricked a child into his van by offering her candy.
The rapper denies there was any money or contract involved. He claims Bregoli herself wanted to collaborate on a song and star in a music video.
In recorded footage of their collab, Danielle is seen looking awkward and uncomfortable in a recording studio with Stitches.
It should be noted this wouldn't be the first time Danielle agreed to appear in a rap music video. Last month, she starred in Kodak Black's music video for "Everything 1K."
As of right now, it is unclear whether or not Stitches will still release the video.
Citations: 'Cash Me Ousside' Girl Duped Into Music Vid With Stitches? He Says It's Just Mentoring (TMZ)