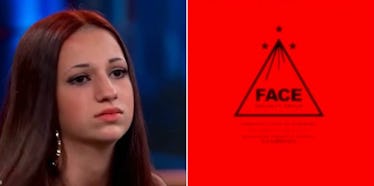 'Cash Me Outside' Girl's Insta Hacked By 'Illuminati' With Creepiest Warning Vid
YouTube/ Instagram
Um... Danielle, are you OK?
The infamous "Cash Me Outside" girl's Instagram was hacked on Tuesday afternoon and the entire internet is oddly concerned about the feisty teenager.
Her followers don't think she was hacked by a crazed fan, though.
They think she was hacked by the Illuminati.
The eerie video was posted by a hacker onto Danielle Bregoli's page at around 1:30 pm.
The video is narrated in a creepy, horror-movie-type voice and reads off captions below a pyramid drawn onto a red screen.
The terrifying captions below the pyramid read,
This is the modern day celebrity? This country glorifies and makes famous a young girl for being disrespectful to her mother. She is no role model. She is no idol. She is no god. Pay close attention to what happens next.
Excuse my language, but WHAT THE FUCK?
I know Danielle Bregoli is one tough chick, but I think even the toughest of chicks would be frightened after seeing a message like that dedicated to them.
What's this supposed to mean? Is this some sort of threat?
To make matters even scarier, the hackers posted a second video onto her Instagram account about two hours after the first one.
The unsettling voice in the following video made a new threat, and said,
The leaks begin Wednesday.
DANIELLE, ARE YOU AS SCARED AS WE ARE?
(Probably not.)
Fans in the comment section of the hacked post are theorizing the Illuminati hacked her Instagram page.
"She's a part of the Illuminati now."
While it's probably not the Illuminati (because it's not, uh, real), it's still a scary, threatening message to send to a 13-year-old girl.
Even though fans are shaking their heads in bewilderment at the video, Danielle has yet to officially respond, although a few fake Instagram accounts have popped up in response.
Stay safe, Danielle! We're worried about you!
Want more of the 'Cash Me Outside' girl? Check out these stories:
'Cash Me Outside' Girl Looks Totally Unrecognizable In Classy New Photo Shoot
How Much Money The 'Cash Me Outside' Girl Makes Will Destroy Your Faith In Humanity
'Cash Me Outside' Girl's Instagrams May Be Even More Savage Than Dr. Phil Meme