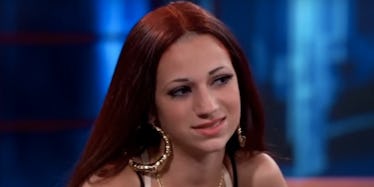 'Cash Me Outside' Girl Looks Completely Unrecognizable In Classy New Photo Shoot
YouTube
When you think of Danielle Bregoli, aka the "Cash Me Outside" girl, the last word that comes to mind is "class."
Come to think of it, I'm convinced the sassy 13-year-old doesn't have a modest bone in her body, and I'm pretty sure that's the way she likes it.
Anyone who makes a living off a controversial Dr. Phil episode after threatening the "hoes" in the audience to "catch her outside" probably doesn't care what people think about her.
She's making more money than I probably ever will, so the joke's on me!
But maybe — just maybe — I'm jumping to conclusions
Shockingly, Danielle Bregoli just proved everyone wrong who thought she couldn't be classy with a gorgeous new photoshoot.
The badass teen posted a pic on March 1 to tease her fans with a recent photo shoot, and she looks classier than ever.
I never thought I'd be saying this about the "Cash Me Outside" girl, but she looks super pretty and the internet is impressed.
OK, OK — I take back everything I said about the impossibility of Danielle being classy. I'll admit I was wrong.
In case one picture isn't enough to convince you the "Cash Me Outside" girl is going through a mega fame transformation, check out another photo shared by her makeup artist, Wanthy Rayos.
See? This chick can be classy AF.
Based off these photos, it seems like she's just getting started in the world of stardom. It's safe to say we can be expecting a lot more to come with the "Cash Me Outside" girl.
Rumor has it she might be making a transformation from memes to the TV screen with her own show.
Hey, as long as she's raking in the cash, making money off her anger and getting glamorous for photoshoots, I don't think she'll mind.
Want more of the 'Cash Me Outside' girl? Check out these stories:
How Much Money The 'Cash Me Outside' Girl Makes Will Destroy Your Faith In Humanity
'Cash Me Outside' Girl's Instagrams May Be Even More Savage Than Dr. Phil Meme
'Cash Me Outside' Girl's Absurd Police Record Proves She Really Is That Savage
Citations: @TheBhadBhabie (Twitter)