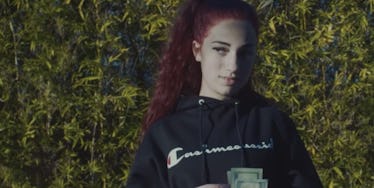 'Cash Me Outside' Girl May Get Her Own Show, So Her Kardashian Diss Was Serious
YouTube
Remember when young Danielle Bregoli came out swinging at Kylie Jenner and the rest of the Kardashian Krew?
ICYMI, the 13-year-old that made it big for trying to start a fight with an entire studio audience recently threatened to "whoop every Kardashian that there is," with Kylie and Kim K getting their own disses.
Well, it turns out her threat may not have been so empty after all.
And if you're the "Cash me outside" girl's biggest fan (let's be real, why wouldn't you be?), then get excited because she might be about to get her own show.
That means an awful lot more of this...
... and almost certainly more of this.
According to TMZ, Danielle's squad has been contacted by no less than seven production companies, and she's going to meet with them in Hollywood this week.
Yes, the angriest teen on the planet will have to sit through hours of boring meetings! What could possibly go wrong?
Terrifyingly, four of the companies want Danielle and her mom to star in a brand new TV show, based off the insane popularity of "Cash me outside, how bow dah?"
And three of them have raised the possibility of having a scripted series — meaning Danielle would have to learn lines.
If it all works out, she'll probably move to Tinseltown, despite recently telling the world she is "not Hollywood" but is, in fact, "Hollyhood."
It's very, very hard to imagine a world where Danielle's reality show somehow surpasses "Keeping Up With The Kardashians," but, I mean, that show shouldn't work at all in theory and it's basically the biggest thing on the planet, so what do I know?
Seriously though, if there's one thing we know about the angry teen, it's that she does whatever the hell she wants to do.
So I can't imagine her taking orders from producers — and yet companies are still lining up to make her a star.
Moral of the story: If you want your own reality show, just get on national TV, say something insane and turn your life into a crazy, always-evolving meme.
How bow dah?
Want more of the 'Cash Me Outside' girl? Check out these stories:
How Much Money The 'Cash Me Outside' Girl Makes Will Destroy Your Faith In Humanity
'Cash Me Outside' Girl's Instagrams May Be Even More Savage Than Dr. Phil Meme
'Cash Me Outside' Girl's Absurd Police Record Proves She Really Is That Savage
Citations: CASH ME ON REALITY TV!!! (TMZ)