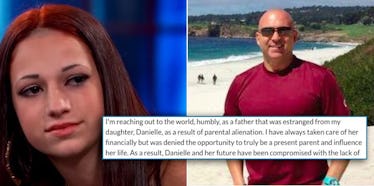 'Cash Me Outside' Girl's Dad Writes Heartfelt Plea Begging To Help His Daughter
GoFundMe/Facebook
The "Cash Me Outside" girl's dad has had enough.
Like the rest of the world, he's watched in horror as his daughter, Danielle Bregoli, has gone from a troubled teen to a celeb making way too much money via a stream of cringe-worthy viral videos.
For years, Ira Peskowitz has fought a custody battle with his ex, the 13-year-old's mom, Barbara Bregoli. Now he's really stepping it up.
Peskowitz, a sheriff's deputy in Palm Beach County, Florida, associate professor and founder of the Kids and Police Tennis Association, wants to raise enough money to take Danielle under his wing.
He has started a GoFundMe page to raise funds for legal fees. So far, he has raised over $2,000.
He also described the heartfelt reasons why he is so desperate to help his estranged daughter, writing,
I'm reaching out to the world, humbly, as a father that was estranged from my daughter, Danielle, as a result of parental alienation. I have always taken care of her financially, but was denied the opportunity to truly be a present parent and influence her life. As a result, Danielle and her future have been compromised with the lack of the love and guidance a child needs to be able to flourish in this world.
His goal is to give her a "happy and healthy life in a stable home with a strong positive future."
However, according to TMZ, Danielle has no interest in his help, and believes he's trying to sneak his way into her earnings.
While on Dr. Phil, the 13-year-old teared up while talking about her estranged father and his other family.
My advice? Take the money you've already made and run from the spotlight, kid.
Last month, Peskowitz told the Palm Beach Post,
Danielle feels rejected by me. That poor girl. I did not abandon her. I left her mother, but I did not abandon her. I know there is a little girl in there, and I hope one day she can hug me and say, "I love you, Daddy."
Peskowitz is hoping his desperate plea will be enough to reunite him with his fame-hungry daughter.
Want more of the 'Cash Me Outside' girl? Check out these stories:
'Cash Me Outside' Girl Looks Totally Unrecognizable In Classy New Photo Shoot
How Much Money The 'Cash Me Outside' Girl Makes Will Destroy Your Faith In Humanity
'Cash Me Outside' Girl's Instagrams May Be Even More Savage Than Dr. Phil Meme
Citations: 'CASH ME OUSSIDE' GIRL Dad's Money Plea Is a Joke HE'S TRYING TO RIDE MY COATTAILS! (TMZ), EXCLUSIVE: 'Cash me outside' teen's father breaks silence (Palm Beach Post)