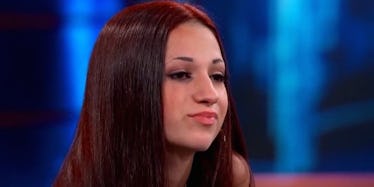 'Cash Me Outside' Girl Was Caught Outside A Bar In Another Insane Fight
YouTube
Danielle Bregoli is a loose cannon.
Unsurprisingly, the "Cash Me Outside" girl was involved in yet another alleged fight. This time, she was with her friends, and it happened "outside" of a bar on February 25.
According to TMZ, the 13-year-old had been chilling with friends in the downtown area of Lake Worth, Florida on Saturday night when a few random people recognized her and asked for pictures.
Bregoli stopped to take photos with them and began being taunted by nearby strangers. They began shouting the "cash me outside" catchphrase at her.
From there, Bregoli became noticeably aggravated, and things escalated.
The 13-year-old "Dr. Phil" guest began shouting back and even called one of her taunters a "crack whore." I'm pretty sure a fight MUST break out after the word term "crack whore" is tossed around!
The video clip shows Danielle Bregoli and her friends briefly leaving the front of the bar before returning with their phones in their hands.
McGregor, a little help here?
One of the girls Bregoli was with then runs up to a woman outside of the bar and begins pulling her hair and allegedly slugging her in the face repeatedly.
Shortly after the attack, Bregoli and her squad ran off down the block. Bystanders attempted to chase them down, but were unable to keep up.
TMZ reports the police were called, but by the time they showed up, the "Cash Me Outside" girl and her friends were gone. It was like magic.
Here's the video clip of the "Cash Me Outside" girl and her friends getting into a crazy fight outside of a bar this weekend.
Ah... What are we ever going to do with this girl?!
Whether she's outside of Los Angeles hotspot Catch or simply sitting in the driver's seat of a car she's not even old enough to drive yet, it seems like she brings a whole lot of excitement with her wherever she goes.
I'm not sure if that's good or bad, but considering she struck fame after appearing on "Dr. Phil" for being "ungovernable" and "out of control," I guess her latest fight is perfect for her budding brand.
Citations: 'Cash Me Ousside' Girl: Another Day... Another Fight, This Time Ousside A Bar! (TMZ)