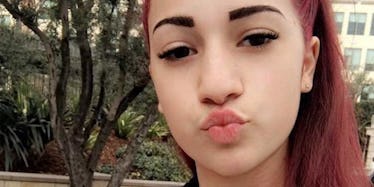 'Cash Me Outside' Girl Looks Like She's Got New Tattoo And It's Pretty Classy
Oh look, the "Cash me outside" girl has put a new video up on her Instagram!  She's so damn wild!
Look at her posing to the camera, dancing to one of her favorite rap songs and… and…
HOLD ON A DAMN SECOND. IS THAT A TATTOO?!
It can't be. Surely not?
OH MY GOD IT IS. Probably.
If her latest vid is anything to go by, Danielle Bregoli has gone and got herself a tattoo — and the tattoo is actually pretty classy.
Minimalist tattoos are on point, and I'm diggin' the tiny heart Danielle has had inked on her finger.
In fact, it would be great if it wasn't for one tiny problem.
She's 13 years old, and at the risk of sounding like your mom, there's no way a kid of that age should be getting a tattoo.
When I was 13, I was kicking a soccer ball around, playing a ton of video games and being horrendously awkward with girls. Tattoos were just about the furthest thing from my mind.
Anyway, Danielle's ink is actually completely unlike her because it's so… subtle.
Just watch the video of her unveiling the artwork — in her typical, in-your-face style, she makes sure you see it and shouts "I'm alive, mother fucker" at the camera.
Then again, I wouldn't be surprised at all if this somehow wasn't legit. Who knows what to believe with this girl any more?
Just a couple days ago, she had us all fearing for her (and our own) safety when a string of creepy vids appeared on her IG page.
But it turned out to be nothing more than promo for a new music video. Ugh.
Since then, the fame-hungry teen has uncharacteristically kept things quiet on social media.
I'm guessing she's spent most of that time in pain because her tiny tattoo hurt a hell of a lot more than she was expecting.
How bow dah?