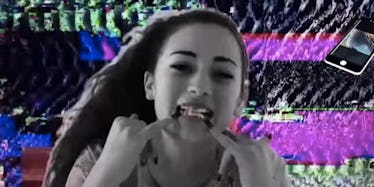 'Cash Me Outside' Girl Faked Insta Hack To Promote Video And Everyone's Pissed
YouTube
Well everyone, it looks like we've been played by the one and only "Cash Me Outside" girl.
Feels pretty stupid, doesn't it? I can't believe we were actually worried about Danielle Bregoli.
C'mon though. You have to admit: After her Instagram account was hacked, it was hard not to feel some inkling of concern for the feisty 13-year-old.
The eerie posts her "hacker" shared had the entire internet thinking the freakin' Illuminati took charge of her account, and we fell for it.
We really, really fell for it.
One of the terrifying videos posted to Danielle's page on March 5 warned viewers to "pay close attention to what happens next."
The other video threatened "the leaks begin Wednesday."
Well, it's Wednesday, and it turns out the Illuminati didn't take over Danielle's Instagram page (shocker).
Instead, Danielle was behind the "hacked posts" the entire time.
That's right: The teenager single-handedly fooled her entire fanbase into thinking she was being hacked and threatened by a terrifying organization, but she wasn't.
Danielle made her account look like it was hacked so she could release a music video, and the internet it livid.
We were worried about you, Danielle! And then you go and pull this shit with us?! UGH.
The annoyingly sneaky "Cash Me Outside" girl teamed up with award-winning director Glassface to take over her own account for the video release.
Elite Daily was so concerned about Danielle that its editors reached out, and her PR team responded with more information about the music video "hack."
Her team said,
Danielle and her team collaborated with Glassface to take over her account for this top secret art experiment. The result was millions of media impressions, hundreds of fake accounts, speculation and news stories.
Well... her "experiment" worked.
She definitely got mass exposure from this one, but that's probably because the videos her team shared were downright TERRIFYING.
But this is Danielle, we're talking about. She's not scared of anything.
The music video she "leaked" on Instagram Wednesday afternoon is a song called "Juvy" by Danielle's favorite rapper, Mook Boy.
Of course, it's starring Danielle (again, shocker).
Danielle's team told us a little more about the song:
The song "Juvy" is one of Danielle's favorites by independent Florida artist Mook Boy. Mook Boy recorded the actual vocals used on the song on a cell phone while doing an 18-month bid from inside prison.
Oooh! Classy!
As pissed as I am Danielle completely tricked us into thinking she was in trouble, I have to admit: I watched the video a few times, and it's weird AF.
Like really weird (Donald Trump makes an appearance).
Now that we all feel nice and stupid, we can carry on with the rest of our day knowing Danielle's account is actually not being hacked by the Illuminati.
Danielle, you're something else.
Want more of the 'Cash Me Outside' girl? Check out these stories:
'Cash Me Outside' Girl Looks Totally Unrecognizable In Classy New Photo Shoot
How Much Money The 'Cash Me Outside' Girl Makes Will Destroy Your Faith In Humanity
'Cash Me Outside' Girl's Instagrams May Be Even More Savage Than Dr. Phil Meme
Citations: @bhadbhabie (Instagram)