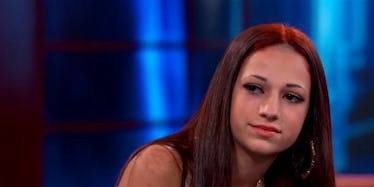 'Cash Me Outside' Girl Banned From Airline After Punching Passenger In Video
YouTube
Cash me on a plane, how bow dah?
Ahead of her return to our TV screens this week, Danielle Bregoli — better known as the "Cash Me Outside" girl — has apparently been caught up in a fight on an airplane.
Footage obtained by TMZ reportedly shows the teenager of meme fame punching another airline passenger during a heated dispute.
Danielle, her mom and the third woman featured in the video have now been banned from Spirit Airlines for life, it is believed.
And it appears the meme that originated from the teenager's legendary performance on Dr. Phil and changed her life is partly to blame.
In case you've forgotten (how could you forget?) her explosive appearance on the show in September coined the phrase, "Cash me outside, how bow dah?"
It was threatening in a, well, bizarre kind of way, and the internet absolutely loved it.
But one of the clips published by TMZ actually catches Danielle shouting, "Cash me outside" at another woman on the plane, while confused passengers speculate about whether she is in fact THE "Cash Me Outside" girl.
Footage also shows her mom confronting the woman, telling her, "Don't call my kid trash."
Apparently the bad blood on the Spirit Airlines flight out of LAX started when Danielle's mom, who is wearing a cast for an injured foot, struggled to put her bag in the overhead bin.
This tested the patience of the other woman, who Danielle claims put her hands around her mom's throat, leading to the punch.
Video taken on the aircraft show the three women shouting at each other while other passengers try to intervene.
Soon afterward, police arrived and escorted all three women off the flight.
No arrests were made as no one wanted to press charges. Lawyers are set to handle the incident.
Citations: 'CASH ME OUSSIDE' GIRL PUNCHES AIRLINE PASSENGER, COPS CALLED It Gets Racial (TMZ)