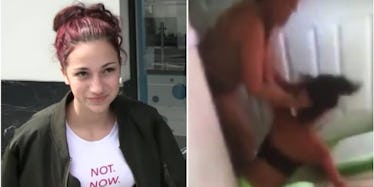 'Cash Me Outside' Girl Has Troubling Response To Vid Of Brutal Fight With Mom
TMZ/YouTube
Danielle Bregoli has defended her mom after a shocking video appeared to show Barbara Bregoli beating her daughter in their home.
ICYMI, a leaked clip — which Danielle hinted was released by her "ex-best friend" — seems to show the "Cash me outside" girl's mom brutally beating her and pulling her by the hair.
In a slightly troubling response to the footage, Danielle has insisted what happened on the day was nothing more than "play fighting."
She told TMZ,
Me and my mother were not fighting on the floor, we were play fighting. My ex-best friend took it to a whole other level, it wasn't what it was at all, we were play fighting on the floor, and I hit her too hard so she pushed me on the floor. She didn't hurt me. I'm still living right? I'm not dead.
Her mom has not yet commented about the leaked video.
Danielle added this video was the "worst it ever got," adding it was shot nearly three years ago.
Explaining the authorities were never involved and she loves her mom, Danielle added,
My mother is not abusive, she doesn't abuse me.
Message received.
But her claims appear to be in contrast with the shocking nature of the video, which paints the angry 13-year-old in a vulnerable new light.
In the video, Barbara is also verbally abusive, telling Danielle, "You're so fucking tough?" and calling her a bitch.
It appears to have been filmed on two different cell phones, and someone says, "Stop!" at the end of the clip.
The context of the argument is unknown.
It was posted on YouTube just weeks after police were called to a dispute at the Bregoli family home between Danielle and Barbara.
It's thought Danielle had a friend over and Barbara wanted the friend to leave — this made Danielle unhappy, and a fight broke out.
But the argument was settled after police arrived at the home.
Want more of the 'Cash Me Outside' girl? Check out these stories:
Leaked Video Shows 'Cash Me Outside' Girl Beat Up By Mom And We're Concerned
'Cash Me Outside' Girl Looks Like She's Got New Tattoo And It's Pretty Classy
'Cash Me Outside' Girl Back To Her Old Ways After Cops Break Up Fight With Mom
Citations: 'CASH ME OUTSIDE' GIRL My Mom Didn't Beat Me THAT'S JUST HOW WE PLAY FIGHT, OKAY? (TMZ)