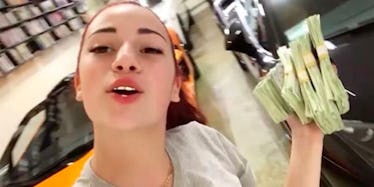 'Cash Me Outside' Girl's Set To Be A Millionaire, So Rethink Your Life Goals
Instagram
Remember when we found out how much money Danielle Bregoli makes on the reg?
Ah, yes. It was the dismal moment a few weeks ago when we collectively sobbed upon learning how much she's raking in these days thanks to her "Cash me outside" catchphrase.
At the time, we found out the feisty teen was charging $30,000 for meet and greets in the US, and $40,000 for appearances outside the country.
Let those numbers sink in for a moment (and try not to cry).
On top of appearances, merchandize, music videos and a possible reality show, it's easy to assume her income is about to grow significantly.
Sadly but surely, our assumptions about Danielle's mind-boggling savings are coming true.
It's been reported the 13-year-old could be a millionaire by the end of 2017, per MailOnline.
To make matters even sadder for everyone else who's working relentlessly for their below-par income, I'll enlighten you on Danielle's net worth.
The "Cash me outside" girl's net worth is currently around $200,000.
With the help of ad placements and meet and greets, the young "star" will make more money than you this year.
One of Danielle's ad placements was for Fit Tea, and it's gained over 10 million views.
Apparently, Danielle is predicted to make a whopping $100,000 off product ads alone by the end of 2017.
So while you're working hard day to day at your 9 to 5 job, keep in mind the "Cash me outside" girl will probably be a millionaire within several months.
Who new someone could make so much money off a Dr. Phill appearance?
How bow dah?
How. Bow. Dah.
Want more of the 'Cash Me Outside' girl? Check out these stories:
'Cash Me Outside' Girl Has Troubling Response To Vid Of Brutal Fight With Mom
Leaked Video Shows 'Cash Me Outside' Girl Beat Up By Mom And We're Concerned
'Cash Me Outside' Girl Has Oddly Mature Reply When Asked If She's Dating Rapper
Citations: She can certainly afford the protection! 'Cash me ousside' girl is spotted with a burly bodyguard while out for ice cream as it's revealed she's set to make $1million off the back of her viral fame (MailOnline)