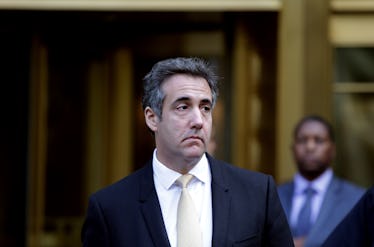 Michael Cohen Reportedly Will Never Accept A Pardon From Trump, Which Says A Lot
Yana Paskova/Getty Images News/Getty Images
The drama between President Donald Trump and his former longtime attorney Michael Cohen has been nonstop over the past few months, but things came to a head on Aug. 21 when news broke that Cohen had pleaded guilty to a series of crimes. On Tuesday, Aug. 21, Cohen entered a plea deal in New York federal court on charges of financial fraud and campaign finance violations, which carry a maximum of 65 years in prison. So now the question on everyone's mind is: Will Trump pardon Michael Cohen? After all, they appeared to be pretty close before the drama.
Cohen's lawyer, Lanny Davis, offered up an answer on his client's behalf during an appearance on ABC's Good Morning America on Wednesday, Aug. 22, and the answer is apparently, no.
"He will not [seek a pardon from Trump], and does not want anything from Donald Trump," Davis explained, adding that Cohen, who pleaded guilty to violating campaign finance laws during the 2016 presidential election at the direction of the president, is ready to speak to Special Counsel Robert Mueller. Mueller is leading the probe into whether Trump's campaign colluded with Russia to influence the presidential election, and whether Trump obstructed justice. "What he knows that he witnessed will be of interest to the special counsel," Davis continued. "He will tell the truth to everybody who asks him about Donald Trump."
But perhaps the possibility of a pardon was off the table anyways, because Trump doesn't seem too pleased with how the matter has unfolded. The president took to Twitter on Aug. 22 to hurl an intense shot at his ex-lawyer, writing: "If anyone is looking for a good lawyer, I would strongly suggest that you don't retain the services of Michael Cohen!"
Whew.
The relationship between Cohen and Trump has been dwindling since April, when federal agents raided Cohen's home and office in search of evidence related to multiple ongoing investigations, including the $130,000 payment Cohen said he gave to adult actress Stormy Daniels ahead of the election, who claims she had an affair with the president in 2006 (which Trump denies). Although Cohen initially said he made the payment out of his own pocket and Trump did not know about it, Trump later said that he paid Cohen back. But their relationship apparently hit a breaking point on Aug. 21, when Cohen told a federal court in New York that he arranged to make payments to Daniels and Karen McDougal, a former Playboy model who also claimed she had an affair with the president in 2006, which Trump also denied. Cohen claimed he made the payments "for [the] principal purpose of influencing the election" at the direction of a "candidate," which appears to implicate Trump. Elite Daily reached out to the White House for comment on Cohen's claims that he paid off the two women at the instruction of Trump, but did not receive a reply.
According to the New York Times, Cohen pleaded guilty to eight counts of financial fraud, including five counts of of tax evasion, one count of false statements to financial institutions, one count of cause of unlawful corporate contribution, and one count of excessive campaign contribution.
Following the plea, Davis shared a statement with Elite Daily, which indicated that he thinks trouble could be coming for Trump, too. He writes:
Michael Cohen took this step today so that his family can move on to the next chapter. This is Michael fulfilling his promise made on July 2nd to put his family and country first and tell the truth about Donald Trump. Today he stood up and testified under oath that Donald Trump directed him to commit a crime by making payments to two women for the principal purpose of influencing an election. If those payments were a crime for Michael Cohen, then why wouldn't they be a crime for Donald Trump?
Based on how this situation has unfolded, it might be safe to say that a pardon isn't likely to happen anyway. Well, it's one less thing to wonder about.