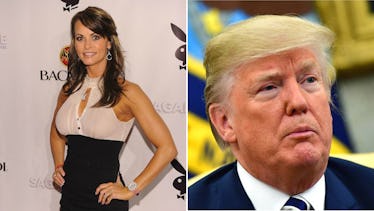 This Former Playboy Model Claims She Had Alleged Affair With Donald Trump
Dimitrios Kambouris/Getty Images Entertainment/Getty Images; Pool/Getty Images News/Getty Images
On Tuesday, March 20, another woman came forward seeking to speak up about relations she claims she had President Donald Trump. The New York Times reports Karen McDougal, a former Playboy model, now joins adult film star Stormy Daniels in suing to be released from legally binding agreements they signed to stay silent about affairs they alleged they had with Trump.
The lawsuit, filed in Los Angeles Tuesday, claims that McDougal had a 10-month relationship with Trump from 2006 to 2007. Per the New Yorker, a White House spokesperson called McDougal's allegations "an old story that is just more fake news," adding that Trump denied having the affair. Elite Daily reached out to the White House for additional comment on McDougal's allegations of an affair and her lawsuit, but had not received a response at time of publication.
American Media, Inc. said in a company statement obtained by Elite Daily,
Karen McDougal has been free to respond to press inquiries about her relationship with President Trump since 2016. Thus, the suggestion that AMI "silenced" her is completely without merit. Rather, Karen signed a contract that gave AMI the editorial discretion to publish her life story, and she promised to write health and fitness columns and appear on the cover of two magazines.
American Media, Inc. added that the company "has published 20 of Karen's columns in print, all of which were syndicated on other entertainment properties." The statement says the company has "been very proud of Karen McDougal and our work with her," and that they believed she was satisfied with her work with them. "Her lawsuit is the first time AMI has learned of her desire to go a different direction. AMI has a valid contract with Karen and we look forward to reaching an amicable resolution satisfactory to her and to AMI," the statement reads.
McDougal brought a lawsuit against American Media, Inc., the parent company of the National Enquirer. AMI allegedly paid $150,000 for the exclusive rights to McDougal's story just before the 2016 election only to bury it, according to a Wall Street Journal report, in a practice called "catch and kill." AMI Chairman and CEO David Pecker, per the New Yorker, is a friend of Trump's.
McDougal filed the lawsuit on the grounds that she was misled by her previous lawyer about the agreement and that Michael Cohen, a personal attorney for Trump, was involved in her talks with AMI. Though AMI reportedly promised a certain amount of coverage for McDougal in exchange for her story, the lawsuit claims that the company didn't hold up its end of the bargain.
In speaking with the press about her experiences, as she did for the New Yorker story in February, McDougal has allegedly received threats. Though the company altered her agreement to allow her to respond to "legitimate press inquiries," the lawsuit reads, "AMI has simultaneously provided those same reporters false and misleading information ... And each time that Ms. McDougal has taken steps to set the record straight, AMI has responded with threats and intimidation."
McDougal refused to discuss details of her relationship with press, thanks to her signed agreement. "At this point I feel I can't talk about anything without getting into trouble, because I don't know what I'm allowed to talk about," she told the New Yorker in its February article. "I'm afraid to even mention his name."
McDougal is the second woman seeking to break her agreement after reportedly receiving a large payout to keep quite about an alleged affair with the president. Stephanie Clifford, better known as Stormy Daniels, filed a lawsuit in Los Angeles court earlier this month, arguing that an October 2016 agreement was "null and void" because it was signed by Trump's attorney Michael Cohen, not Trump himself. The White House has repeatedly denied the claims of the affair with Daniels, though Cohen has admitted to making the payment.
Both agreements had stipulated, per the Times, that any arbitration would need to settle privately, and both Daniels and McDougal are seeking to have their cases go before an open court.
It's unclear how the cases will proceed, but they've certainly gotten the nation's attention.
"The new suit by Karen McDougal could have better legal odds than Stormy Daniels, because of the argument that this was a contract for her to *speak* — not to stay silent," wrote MSNBC host Ari Melber.
Meanwhile, Daniels has allegedly received threats of physical harm since coming forward, her attorney Michael Avenatti claimed to news outlets last week. She is expected to provide further details of her case, including the threats against her, on a 60 Minutes interview airing March 25. Avenatti claimed six other women had approached his firm with cases similar to Daniels, two of whom had similar non-disclosure agreements. At the time, none of those women's cases had been confirmed.