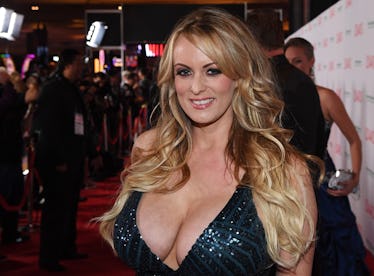 5 Reasons You Should By Paying More Attention To The Stormy Daniels News
Ethan Miller/Getty Images Entertainment/Getty Images
There has been more than enough news circulating around the president and his administration in recent weeks to keep the entire country busy. But a case brought against Donald Trump by an adult film star may have slipped some radars. If you haven't gotten caught up to speed, it's worth looking at. There are a number of reasons you should pay attention to Stormy Daniels' case against Trump.
News reports from January 2018 claimed that Daniels, whose real name is Stephanie Clifford, had been paid to keep quiet about an affair she'd reportedly had with Trump in 2006, while he was married to Melania. Daniels discussed the reported affair in-depth in a 2011 interview with InTouch.
A report by the Wall Street Journal showed that in the final days leading up to the 2016 presidential election, Trump's attorney Michael Cohen paid Daniels $130,000 to sign a non-disclosure agreement, preventing her from coming forward and speaking out about their affair. The White House denied the rumors of an affair and a payment, calling them "old, recycled reports, which were published and strongly denied prior to the election," while Cohen himself refuted the reports that Daniels and Trump ever had an affair. A letter allegedly signed by Daniels dated Jan. 10, 2018, calling the rumors of an affair "completely false," seemed to counter her own account to news outlets. Cohen admitted to paying Daniels, although he said it was "a private transaction" and that he did so using his own money, without involvement from the Trump Organization or the Trump campaign.
But the conflict didn't end there. On March 7, Daniels' attorney Michael Avenatti filed a lawsuit in the state of California against Trump, on the grounds that the alleged "hush" agreement was "null and void" given that it was reportedly signed by Cohen and not Trump himself. In the days since, numerous points about the case have come into clear focus that are worth looking at more closely.
In response to news of the lawsuit against Trump, the White House confirmed that legal conflict had already taken place. "This case had been won already in arbitration, and there was no knowledge of any payments from the president, and he has denied all these allegations," said White House Press Secretary Sarah Huckabee Sanders in a press briefing on March 7, per Politico.
Although it's easy to ignore this story in favor of paying attention to, say, shake-ups at the White House or North Korea talks, several new developments have made this case on you should be paying attention to as the scope expands. Here's what you should know.