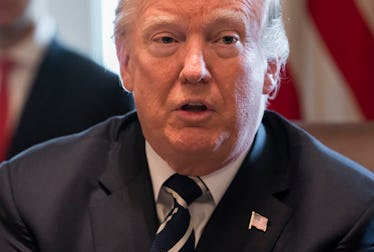 Trump Is Being Asked To Turn Over Documents Relating To Alleged Sexual Assaults
SAUL LOEB/AFP/Getty Images
Sexual assault and harassment has taken the fore of a national dialogue after news broke that Harvey Weinstein had allegedly been paying off accusers for decades. Meanwhile, President Donald Trump has been subpoenaed for documents related to sexual assault allegations against him, BuzzFeed reported on Sunday, Oct. 15. This is the latest development in what has been a months-long case against the president. Elite Daily reached out to the White House for comment on the case and subpoena, but did not hear back at time of publication.
The subpoena came from a lawyer representing Summer Zervos, a contestant on the fifth season of The Apprentice, who last October came forward alleging that Trump sexually assaulted her in 2007. Zervos claims assaults on two occasions; once while in his office when he kissed her twice, and again while she visited him in a bungalow at the Beverly Hills Hotel to discuss the possibility of employment with the Trump Organization. At this visit, she claims, he forcibly kissed her and grabbed her breast.
In October 2016, after Zervos went public with her allegations, Trump denied them, saying,
To be clear, I never met her at a hotel or greeted her inappropriately a decade ago. That is not who I am as a person, and it is not how I've conducted my life.
After Trump denied this allegation, Zervos came back with a lawsuit against his campaign organization claiming defamation. The subpoena was part of this suit, and it sought to protect all documents the campaign had pertaining to her.
The subpoena was filed back in March, but Trump's legal team pushed back, contending that the subpoena was too broad and putting it on hold. It was reentered into court files just last month, when one of Zervos' attorneys countered that. According to BuzzFeed, now is the first time that the contents of that subpoena have been disclosed.
The subpoena calls for all documents concerning Zervos, but it goes farther: It also seeks any documents pertaining to any of the women who've claimed sexual harassment or assault by Trump, as well as any documentation around the Access Hollywood tape in which Trump bragged about grabbing women by the genitals. In addition, it asks that Trump's lawyers turn over any documents relating to his denials of these accusations as well as key individuals' knowledge of or communications around any of these women. The subpoena lists 10 women who have alleged similar behavior from Trump.
Trump's lawyers have pushed back against both the original lawsuit and the subpoena, saying, according to CNN,
Ms. Allred has served a far-reaching subpoena on the Trump campaign that seeks wholly irrelevant information intended solely to harass the President. Indeed, Ms. Allred herself has questioned how the President could run the country if faced with broad discovery.
Per CNN, Zervos' lawyers shot back at the Trump team's rejection, saying,
Contrary to Defendants' spin, this case is not about robust political debate. Ms. Zervos was not a political opponent, nor was she a political commentator routinely engaged in criticizing candidates.
CNN reports that, if the case isn't dropped, Trump's lawyers are seeking to have it stayed until the end of his presidency, adding that a state-level lawsuit cannot be made against a president while in office.
According to BuzzFeed, in a statement about this latest development, Allred said,
We are hopeful that the court will deny President Trump's motion to dismiss, so that we may move forward with discovery and obtain relevant documents and testimony.
Trump's lawyers have until Oct. 31 to respond to Zervos' case and the subpoena, which could dredge up evidence about whether the claims made by about a dozen women are true or not.