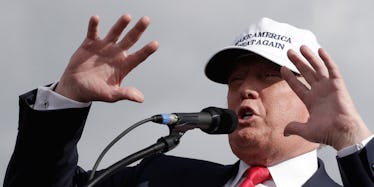 Hey Trump, This Is The Real Reason Women Are Suddenly Accusing You Of Assault
REUTERS
Five women's stories came out on Wednesday night accusing Republican presidential nominee Donald Trump of unwanted groping and kissing.
Two were in the New York Times. One in the Palm Beach Post. One reporter wrote her own story in People. And one posted about it on Facebook.
Because these stories all emerged at roughly the same time, Trump supporters decided it had to be a conspiracy.
The Trump campaign itself set that tone in their statement on the New York Times article, which said the paper launched "a completely false, coordinated character assassination." The statement said,
For this to only become public decades later in the final month of a campaign for president should say it all.
Pundits on TV news stations and Twitter questioned why these women waited until now to tell their stories and called their stories fake -- #NextFakeTrumpVictim even started trending.
They suggested it was part of a campaign to make Trump lose the election.
She told Elite Daily,
[Theories like this] perpetuate the climate of hostility towards rape survivors that keeps them quiet in the first place.
Many sexual assault survivors do not immediately tell their stories -- to authorities or to people around them. There are a lot of reasons for this.
Women are afraid they will be blamed for their own assault (and I'm using "women" because women are the predominant victims of sexual assault, although men are also assaulted). They are ashamed.
They are afraid of social fallout, since attackers are often people within a victim's social or family circle. Or, you know, they're afraid the accused will sue them.
Ultimately what all these reasons come down to, Houser explained, is that survivors "don't trust that people will respond appropriately." Houser said,
Survivors are not optimistic about the way people will respond to them if they disclose an assault.
Advocates and lawmakers across the country have actually been trying to change the statute of limitations for reporting assaults to align with the fact that survivors often need to take a long time before reporting.
Former People magazine reporter Natasha Stoynoff was reporting on Trump's marriage with Melania when he allegedly kissed her without her consent.
Trump has been questioning why she didn't write about it in her original article.
Stoynoff actually addressed that in her article. She wrote,
But, like many women, I was ashamed and blamed myself for his transgression. I minimized it ("It's not like he raped me…"); I doubted my recollection and my reaction. I was afraid that a famous, powerful, wealthy man could and would discredit and destroy me, especially if I got his coveted PEOPLE feature killed.
Often, after a period of time, survivors feel compelled to tell their story.
An assault causes many emotions, including anger and powerlessness. Given some time, those feelings boil over.
They're not doing it to send an assailant to jail or for any kind of repercussion. Like the women who came forward about Trump, they're just saying it to have their truth known.
Houser said,
The anger and outrage over that just gets to a point where they know, 'I'm going to take back my personal power and tell the truth.'
The women who spoke out about Trump were pushed to speak by Trump's declaration at the debate on Sunday that he only spoke about grabbing and kissing women and had never actually done it in action.
Rachel Crooks told the New York Times she was reluctant to speak about Trump kissing her, but she was infuriated by his debate declaration, which spurred her to come forward.
It's also not uncommon for many survivors to speak out at the same time.
As happened with high profile cases like Brock Turner and Bill Cosby, many women open up about assaults when a safe opportunity arises.
In those moments, the general public shows a "bubble of safety," Houser explained, when it seems like they will warmly listen to survivors rather than reject or antagonize them.
It's a point in our culture and our environment when the dynamics change and survivors think, 'If I say this, it's going to be OK this time.'
Sometimes it takes one person to step forward and tell her story for others to feel emboldened. This happens in local communities, too, not just in the mainstream news.
This "bubble of safety" for survivors clearly existed this past week.
Once the "Access Hollywood" video hit, the public was angry. They declared it unacceptable. Houser said,
The organic national outrage that came out of individuals across the country and is evident on every social media platform as well as mainstream media is sending a loud message to this country that it's OK to talk about it, people agree that it's wrong, people are upset about it. That is creating a window for people who have kept it a secret or kept it limited to their circle of friends or family.
So while theorists are claiming all these women came forward at the same time to bring down the campaign, it's probably more likely these women felt safe at the same time to speak up.
And that whole idea that women only give public accusations of sexual assault for the fame and fortune?
Houser literally burst into laughter when I asked her about this idea. Then, she said,
Our ability to think that just goes to show we're still not listening.
Especially in these high profile cases, women who come forward often come under attack. The public scours through their personal history to harp on wrongdoing and find a way to accuse the survivor of their own assault.
Mindy McGillivray, who told the Palm Beach Post that Trump groped her, also disclosed her wrongdoings, which are unrelated to the Trump story, because she "knows her past may be scrutinized" by coming forward.
Full disclosure, that was a detail which made me burst into tears while reading on Wednesday night.
These women came forward knowing the personal risks attached, but they felt it was more important to have their stories heard than to stay protected.
The election is on November 8.
Elite Daily and 50 other media organizations partnered with Rock The Vote to register 100,000 women to vote. You can register right here (and men can use it too) :
Citations: Vox, People, New York Times, Palm Beach Post