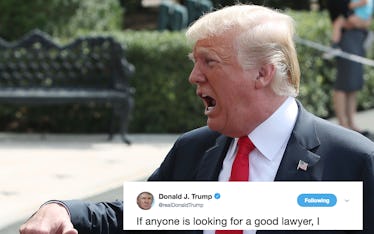 Donald Trump Had A Very Ironic Response To Michael Cohen's Guilty Plea
Mark Wilson/Getty Images News/Getty Images
President Donald Trump burns through advisers and confidantes faster than a middle schooler. One of the latest, and most high profiles, victims of his penchant for shaking up his social circle seems to have been his former lawyer and fixer, Michael Cohen, who has been on the outs with the president ever since it became known that Cohen was under investigation for possible bank fraud, tax fraud, and campaign finance violations. Well, after Cohen took a plea deal on Aug. 21, it doesn't look like things are getting any warmer between the two. Plus, Donald Trump's tweet about Michael Cohen's plea is proof that the United States' leader isn't exactly pleased with how everything is unfolding at the moment.
On Aug. 22, just a day after Donald Trump's lawyer, Michael Cohen, agreed to a plea deal for numerous charges of fraud, Trump took to Twitter to share his own thoughts. It's not uncommon for the current president to air his grievances on social media, but this particular tweet is unlike the others. Usually, Trump enjoys throwing an insult or two at the individual he's addressing on Twitter, but Trump's tweet to Michael Cohen simply just states the obvious when he implies that he's unsatisfied with Cohen as a lawyer.
A resounding 'duh' echoes across the room.
In a statement shared with Elite Daily, Cohen's lawyer, Lanny Davis, slammed the president. He writes,
Michael Cohen took this step today so that his family can move on to the next chapter. This is Michael fulfilling his promise made on July 2nd to put his family and country first and tell the truth about Donald Trump. Today he stood up and testified under oath that Donald Trump directed him to commit a crime by making payments to two women for the principal purpose of influencing an election. If those payments were a crime for Michael Cohen, then why wouldn't they be a crime for Donald Trump?
Tuesday, Aug. 21, was arguably one of the worst days of Donald Trump's presidency to date. Not only did Cohen take a plea deal, but the former attorney also implicated that Trump might have been involved in campaign finance violations During the plea, Cohen admitted to paying Stormy Daniels and Karen McDougal, two women who both claimed to have had affairs with Donald Trump years ago, at the "direction of the candidate," which indicates Trump not only knew about the payments but was instrumental in them. Trump has denied affairs with both women. Elite Daily reached out to the White House for comment on Cohen's claims, but did not immediately hear back.
In addition to the Cohen drama, Trump's former campaign manager Paul Manafort also hasn't been having the greatest luck lately. Over the past few days, Manafort has been in court battling against numerous charges, 18 to be exact, of bank and tax fraud. Well, on Aug. 21, the exact same day Cohen took his plea deal, Manafort was found guilty on eight counts: five counts of tax fraud, two counts of bank fraud, and one count of hiding foreign bank accounts. Judge T.S. Ellis, the Virginia judge trying the case, declared a mistrial for the other 10 counts that the jury couldn't agree on, and Manafort will likely be tried again on those charges.
Unlike Cohen, Trump has consistently supported Manafort throughout his trial, and openly condemned Tuesday's verdict. In fact, after he tweeted about Cohen's skills as a lawyer, he decided to share his support for Manafort, and threw in an insult towards Cohen while he was at it, calling Manafort "brave" and praising him for refusing to "make up stories" in exchange for a deal.
Don't put down that popcorn folks, because this political thriller just keeps getting juicier and juicier. Where it'll end? That's anybody's guess.