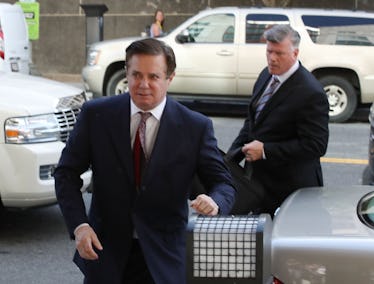 Here's What We Know About Whether Paul Manfort Could Be Re-Tried In Court
Mark Wilson/Getty Images News/Getty Images
Aug. 21 has not been a good day for associates of President Donald Trump, as in short order both his personal attorney and his former campaign manager were either found guilty or pled guilty to multiple federal charges. But at least one of them might get a second chance (kind of). After a judge declared a mistrial on 10 charges against Paul Manafort, you may be wondering if Paul Manafort will be re-tried for those charges. Well, keep wondering, because there doesn't seem to be a clear answer.
On Tuesday, Aug. 21, Manafort was convicted on eight charges of financial crimes, including five counts of tax fraud, one count of hiding foreign bank accounts, and two counts of bank fraud. Manafort, 69, faces up to 80 years in prison on the various counts.
However, it could have been quite a bit worse for Donald Trump's ex-campaign manager. Manafort was actually charged on 18 counts of tax fraud, hiding foreign bank accounts, and bank fraud, per CNN. However, the jury couldn't come to a decision on those final 10 counts, leading Judge T.S. Ellis to declare a mistrial.
Since the jury has delivered no verdict on those final counts, prosecutors have the option to bring a second trial and try Manafort on the same charges again. As Newsweek notes, although federal prosecutors could opt not to take Manafort to court again, it's unlikely they would, given how high-profile the case is. If convicted on all charges, Manafort would face over 300 years in prison.
But even if Manafort doesn't go back to court on these charges, we'll see him in court again. Manafort is still facing another trial centered on his foreign lobbying and contacts. On Sept. 17, Manafort will go to trial again on charges of alleged failure to register his foreign lobbying, alleged conspiracy to launder money, and allegedly lying to the FBI, allegations which he has all denied. It doesn't bode well for Manafort, either: prosecutors in the second case, which will take place in Washington D.C., are said to have twice the amount of evidence against Manafort that they had in the trial which ended Aug. 21.
Coincidentally, Manafort wasn't the only Trump associate to submit to the long arm of the law on Aug. 21. While Manafort was being found (partly) guilty in Alexandria, Virginia, Trump's longtime personal lawyer Michael Cohen was pleading guilty to similar financial crimes in New York. Cohen, who was under investigation for his business dealings in the Southern District of New York, pleaded guilty to eight counts of financial fraud in a Manhattan federal court, including five counts of of tax evasion, one count of false statements to financial institutions, one count of cause of unlawful corporate contribution, and one count of excessive campaign contribution.
Even more of a big deal? Cohen also admitted to paying Stormy Daniels and Karen McDougal, two women who both claim to have had affairs with President Donald Trump (which Trump denies). Cohen claims he paid both women at the "direction of the candidate," a phrase which appears to indicate Trump himself, and that the payments were meant to influence the election. Elite Daily reached out to the White House for comment on Cohen's claim, but did not immediately hear back.
At least Manafort still has Trump's support. Shortly after the verdict, President Trump told reporters in West Virginia, "It's a very sad thing that happened," he said. "I feel very badly for Paul Manafort." Trump did not mention Cohen.
So what's next for Manafort? Well, court, definitely. After that? Well, it doesn't look like anything good.