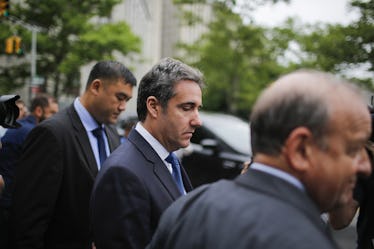 Donald Trump's Lawyer Has Reportedly Pleaded Guilty To Criminal Charges, Which Is Big — UPDATE
Eduardo Munoz Alvarez/Getty Images News/Getty Images
President Donald Trump's former personal attorney Michael Cohen has reportedly pleaded guilty on charges of financial fraud, according to CNN reports from Tuesday, Aug. 21. Specifics of the reported negotiations and potential charges, though, are not yet confirmed. A representative of Cohen's lawyer declined to comment to Elite Daily on the reports of a plea deal.
UPDATE: On Aug. 21, Cohen pleaded guilty to eight counts of financial fraud in a Manhattan federal court, including five counts of of tax evasion, one count of false statements to financial institutions, one count of cause of unlawful corporate contribution, and one count of excessive campaign contribution. Cohen also admitted to paying Stormy Daniels and Karen McDougal, two women who claim to have had affairs with President Donald Trump, at the "direction of the candidate," a phrase which appears to indicate Donald Trump. Elite Daily reached out to the White House for comment on Cohen's claim. Cohen faces a maximum sentence of 65 years in prison and has been released on a $500,000 bond.
In a statement shared with Elite Daily, Cohen's lawyer, Lanny Davis, says,
Michael Cohen took this step today so that his family can move on to the next chapter. This is Michael fulfilling his promise made on July 2nd to put his family and country first and tell the truth about Donald Trump. Today he stood up and testified under oath that Donald Trump directed him to commit a crime by making payments to two women for the principal purpose of influencing an election. If those payments were a crime for Michael Cohen, then why wouldn't they be a crime for Donald Trump?
EARLIER: Cohen is scheduled to appear at a federal court hearing in New York City at 4 p.m. ET Tuesday. The report Tuesday followed news by ABC that Cohen had reportedly entered into a plea deal in the Southern District of New York, confirming earlier reports of his being in discussions with prosecutors. Per CNN, the details of Cohen's alleged plea deal are still being worked out, but Cohen is not expected to cooperate with the government.
Cohen was being investigated by prosecutors for his business dealings, including potential bank fraud, tax fraud and campaign finance violations, per CNN. The New York Times reported Aug. 19 that Cohen was allegedly connected to some $20 million in taxi-business-related loans. Elite Daily also reached out to Cohen's representative regarding the reports of these loans but had not heard back at the time of publication.
Cohen has been a household name since April, when authorities raided Cohen's office and residence in New York seeking evidence for ongoing investigations, including the investigation led by FBI Special Counsel Robert Mueller. He's also been under scrutiny for his role in making a $130,000 payment to adult film star Stormy Daniels prior to the 2016 election in exchange for her signing a non-disclosure agreement to stay quiet about an affair she alleges she had with Trump. Trump and the White House have repeatedly denied the allegations of an affair. Cohen admitted in February 2018 to paying Daniels, but said at the time that he had made the payment out of his own pocket, calling it a "private transaction" and adding that Trump had no knowledge of the payment. Trump later admitted reimbursing Cohen for the payment.
Cohen's reported guilty plea is a good sign for prosecutors, says former federal prosecutor Renato Mariotti, who is not involved with the legal proceedings of any cases involving Trump or Cohen.
"As a prosecutor, what [a guilty plea] means is you have a strong case, the defense is folding early," Mariotti tells me in an interview for Elite Daily. "This is the best possible result. You negotiate a deal up front, you get a guilty plea without having to do any of the work of securing an indictment."
The benefits to pleading guilty, he says, are that it saves both parties a lot of time, money, and effort. "If you are buried, this is the way to go," he adds. "This is what you [the defense] should do if you think you're not going to get a pardon."
Cohen's reported guilty plea stands in contrast to the trial of Paul Manafort, a former chairman of the Trump campaign who is, as of Aug. 21, being tried for alleged bank and tax fraud. Mariotti points out that in that case, the defendant is going to great trouble to fight the charges — something the judge may view unfavorably.
As for how Trump's legal team may react to the news, "It's never good news when your client's former lawyer is pleading guilty to a felony, particularly one that involves your client," Mariotti says.
But the fact that Cohen has not, as of writing, announced he would cooperate with federal prosecutors is a good sign for the president.
"On the flip side, [Trump's lawyers] have to be happy [Cohen] has not reached a cooperation deal," Mariotti adds. "It means either Cohen didn't have anything of sufficient value to offer prosecutors, or wasn't willing to cooperate." Either way, if that's the case, that's a win for the Trump team.