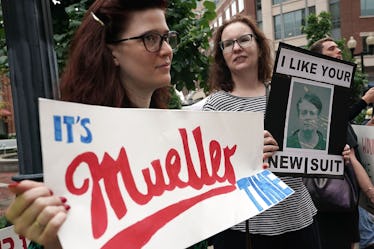 The First Trial From The Russia Investigation Is Starting & This Is What To Know
Alex Wong/Getty Images News/Getty Images
The first defendant stemming from the investigation of FBI Special Counsel Robert Mueller is now having his day in court, literally. As of Tuesday, July 31, the beginning stages of a trial for the former campaign chairman of President Donald Trump are underway. As Paul Manafort's trial starts today, there's a lot to unpack about it.
Manafort was indicted by Mueller in October 2017, and the special counsel has continued to add on charges since. Another 32 charges were lodged in February pertaining to financial fraud, but the trial that begins Tuesday will consider just 18 of those counts, according to The Washington Post. Elite Daily reached out to a representative for Manafort for comment on the charges and the debut of his trial, but did not immediately hear back.
At the time of the February indictment, Washington Post reports, Manafort's spokesperson Jason Maloni said Manafort was innocent of those financial charges. "The new allegations against Mr. Manafort, once again, have nothing to do with Russia and 2016 election interference/collusion," a statement by Maloni reportedly read. "Mr. Manafort is confident that he will be acquitted and violations of his constitutional rights will be remedied."
Manafort is the first American to be tried as a defendant as a result of Mueller's investigation, and though the trial doesn't pertain to Russia or the Trump campaign directly, these topics are certainly on some people's minds as the trial gets underway.
The first part of the trial, taking place in the U.S. District Court for Eastern District of Virginia and presided over by Judge T.S. Ellis III, begins with the jury selection process. Per NPR, Manafort's defense had attempted to get the trial moved, claiming that Alexandria — a suburb of Washington D.C. where the trial is taking place — would yield jurors who might be biased against anyone affiliated with the president. This appeal was denied by the judge.
In this case, Manafort is being tried for 18 counts of alleged bank and tax fraud specifically. A separate trial will take place later this year to address additional charges against him, including alleged failure to register as a foreign agent, alleged failure to disclose lobbying work abroad, and alleged money laundering, per the New York Times. "I have never been involved with anything to do with the Russian government or the Putin administration or any other issues under investigation," Manafort told the Times in 2017.
A couple of other wrinkles weigh in the background as the trial gets underway. Manafort's business partner Rick Gates, who was also indicted by Mueller, is expected to testify against Manafort. In February, Gates pleaded guilty to two criminal charges of financial fraud and lying to investigators, and is cooperating with the prosecution.
Manafort has also been involved in key areas of interest to Mueller; he was in the room for the infamous Trump Tower meeting in June 2016, in which Donald Trump Jr., Manafort, and others reportedly met with Russian nationals promising "dirt" on candidate Hillary Clinton.
The Alexandria trial is expected to focus on Manafort's work with Ukrainian officials and what he did with the income he received for that, as well as alleged fraudulent loans he took out, per The Washington Post. If he's found guilty, he could face life in prison.
In light of that, many have theorized, Mueller has leverage to offer Manafort a deal in exchange for his cooperation. As a key member of Trump's inner circle as well as his campaign chair, Manafort is presumed to have a lot of information for Mueller that could provide insight about the campaign's possible involvement with Russian interference. The big question is whether this trial may compel such a deal.
However, according to a Tuesday tweet by CBS reporter Paula Reid, Manafort's attorney signaled he wasn't intending to make any sort of deal with Mueller. And per the Times, Manafort's supporters say he believes he's innocent and has no information that would be useful to the special counsel.
The other potential consequence of a guilty verdict in this trial would be not just that Manafort decides to cooperate, but that it weakens the claims by Trump and his legal team that Mueller's investigation is a "witch hunt."
The trial is expected to last two to three weeks. A subsequent trial for Manafort is set for U.S. federal court in Washington, D.C. in September.