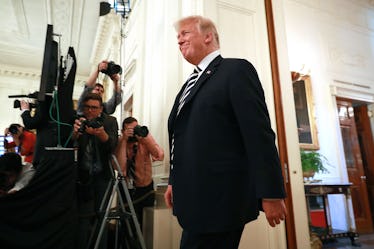 Trump Changed His Story About Paying Stormy Daniels, & It Could Have Legal Implications
Chip Somodevilla/Getty Images News/Getty Images
In a surprising reveal by Rudy Giuliani on Wednesday, May 2, he told Sean Hannity on air that President Donald Trump allegedly reimbursed his lawyer, Michael Cohen, for hush money that was allegedly paid to quash a story that Trump reportedly had an affair with adult film star Stormy Daniels. That contradicted the president's previous comments on the matter and raised new legal questions about the nature of the payment. So with this new development, can Trump get in legal trouble for paying Cohen to pay Stormy Daniels? It's complicated.
"You know, we're living in a new world," Jeffrey Swartz, a law professor at Western Michigan University's Cooley Law School, tells me in an interview for Elite Daily. "Finding legal precedents for some of the things that we're talking about here is hard to do."
Daniels, whose legal name is Stephanie Clifford, was reportedly paid $130,000 to stay quiet about an alleged affair she claims she had with the now-president in 2006, in a payment that some experts have speculated violated campaign finance laws. The White House referred requests for comment on the subject to President Trump's personal legal team, which did not respond to Elite Daily's request for comment. President Trump has repeatedly denied any affair and denied to reporters on Air Force One on April 5 any knowledge of the payment.
Swartz says that regardless of who actually financed the $130,000, it could spell legal trouble because of campaign finance laws.
"Whether it's the president or Michael Cohen, it doesn't matter," Swartz says. "It still is an unreported campaign contribution." Giuliani's media blitz seemed focused on emphasizing that this payment in question was not a campaign contribution.
According to the Federal Election Commission (FEC), the agency that regulates and enforces campaign finance law, using funds for campaign purposes counts as a "campaign contribution," and must be reported, regardless of where the money is coming from (in this case, the two versions of the story thus far show it could be Cohen's money or Trump's money).
Paying Daniels to keep quiet might be considered a campaign purpose — and therefore a "campaign contribution" — since it was done near Election Day and arguably protected the Trump campaign from bad publicity. Likewise, if a donation to a campaign is made by an individual — e.g., Cohen, and some have argued that paying Daniels could be considered a campaign contribution — it must be reported and cannot exceed $2,700 per election.
"Michael Cohen has a problem now, because he has said he never got paid back," Swartz says. "Now they're saying he did get paid back. So, did he make an illegal campaign contribution? At the time that he made the payment, the answer is probably yes." Elite Daily reached out to Michael Cohen's attorney for comment on the alleged reimbursement, but did not hear back before publication time.
In a series of early-morning tweets, Trump echoed points made by Giuliani to further claim that this was a personal, private matter and therefore not a campaign violation.
"Mr. Cohen, an attorney, received a monthly retainer, not from the campaign and having nothing to do with the campaign, from which he entered into, through reimbursement, a private contract between two parties, known as a non-disclosure agreement, or NDA," Trump tweeted. "These agreements are very common among celebrities and people of wealth."
Meanwhile, Giuliani, who joined the president's legal team in April, did interviews with The New York Times and other outlets late Wednesday night, May 2, and was on Fox & Friends early Thursday morning, May 3, after his Hannity appearance. Swartz says this media blitz was likely a plan concocted by Giuliani and Trump.
"My impression would be that this was Giuliani and the president having conversations, brainstorming and deciding, 'This would be a good idea, let's just get out there ... Let's get ahead of this campaign charge by saying this is not a campaign contribution, you did pay the money but you did it to protect your family, your base will believe that and want to believe that,'" Swartz claims.
Swartz notes that politicians have certainly attempted to cover up impropriety in the past, but that this was markedly different.
"Here, Mr. Trump has used his own money for furtherance of his political gain to keep people quiet during a campaign for which he was successfully elected to the presidency of the United States," he claims. "We have never seen that before."
As for the potential costs of violating these FEC statutes, Swartz didn't rule out the possibility of Cohen facing jail time. "They very possibly could — if they chose to indict Michael Cohen — ask for jail time," Swartz says.
Swartz says that if prosecutors were able to demonstrate that the purpose of not reporting the $130,000 payment as a campaign contribution was to cover it up (as Giuliani suggested himself on Fox & Friends on May 3), that elevates the severity of any potential charges.
"It still is a substantial amount of money that should have been reported, and if they purposefully didn't report it, then clearly that's the kind of situation where the court could look at this for jail time as opposed to a fine," Swartz says. "They're not going to put the president of the United States in jail, but they would put Michael Cohen in jail."
As for the explicit ramifications for Trump, Swartz says this is just one of several legal hurdles before the president going forward. As with the Department of Justice's (DOJ) Russia probe, Swartz says that prosecutors likely know much more than has been made public.
"We don't know what we don't know — but Mueller knows everything," Swartz says. "I think now it's just a matter of lining up his witnesses, making sure he's got his i's dotted, his t's crossed, and I think that people are going to be really surprised by what comes out of all of this."