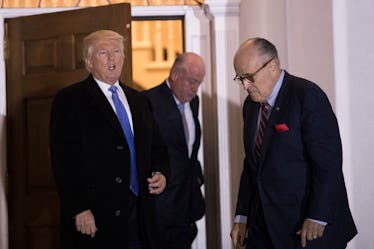 Trump Admitted To Paying For Stormy Daniels' NDA, But Something's Not Adding Up
Drew Angerer/Getty Images News/Getty Images
The moment came on Thursday morning, May 3: In a series of tweets, President Donald Trump admitted to paying for Stormy Daniels' nondisclosure agreement. Previously, it had been widely reported, as stated by involved parties, that Trump lawyer Michael Cohen paid $130,000 to Daniels for the agreement without a reimbursement, while Trump denied knowing about the payment. Now, however, Trump has changed his story, but there's something about it that doesn't add up, considering what's been reported about the agreement so far.
Here's what the president tweeted on Thursday morning about the agreement with Daniels, the adult film star who alleged she had an affair with Trump and whose birth name is Stephanie Clifford (Trump has previously denied the affair):
Mr. Cohen, an attorney, received a monthly retainer, not from the campaign and having nothing to do with the campaign, from which he entered into, through reimbursement, a private contract between two parties, known as a non-disclosure agreement, or NDA. These agreements are very common among celebrities and people of wealth. In this case it is in full force and effect and will be used in Arbitration for damages against Ms. Clifford (Daniels). The agreement was used to stop the false and extortionist accusations made by her about an affair, despite already having signed a detailed letter admitting that there was no affair. Prior to its violation by Ms. Clifford and her attorney, this was a private agreement. Money from the campaign, or campaign contributions, played no roll in this transaction.
The claim that Cohen was reimbursed through a monthly retainer — an amount of money pre-paid by a client for attorneys to charge when necessary — is contradicted by a claim from Cohen himself. Elite Daily has reached out to Cohen's attorney for comment on Trump's tweets, but did not hear back at time of publication. In February, a month after The Wall Street Journal first reported on the existence of the NDA, Cohen told The New York Times that he did not receive reimbursement for the payment.
"Neither the Trump Organization nor the Trump campaign was a party to the transaction with Ms. Clifford, and neither reimbursed me for the payment, either directly or indirectly," Cohen said in a statement to The Times. "The payment to Ms. Clifford was lawful, and was not a campaign contribution or a campaign expenditure by anyone."
Then there's this interview with Trump in April. When asked aboard Air Force One whether he knew about the payment made to Stormy Daniels, Trump said he did not. Then, when asked whether he knew where Cohen got the money for the payment, Trump said he did not.
Trump's tweets about the NDA struck between Cohen and Daniels came less than 12 hours after former New York City Mayor Rudy Giuliani casually dropped the revelation during a Wednesday night appearance on Fox News. Giuliani told host Sean Hannity that Trump reimbursed the money paid for the NDA payment, seemingly as a way of insisting that no campaign laws were broken because the agreement was not paid for with campaign funds.
Giuliani added that Trump didn't know the specifics of the NDA, "but he did know the general arrangement, that Michael would take care of things like this, like I take care of things like this with my clients. I don't burden them with every single thing that comes along. These are busy people."
Giuliani has recently joined Trump's legal team, which has seen multiple, high-profile departures in the past couple of months. During his appearance on Fox News, Giuliani appeared much more concerned about proving the legality of the payment, and in doing so seemed to let the revelation about the Trump reimbursement "slip."
But in an interview with The Washington Post after the Hannity interview, Giuliani said that the president was well aware that the former mayor would talk about the reimbursement publicly.
"Oh, yeah, yeah. Sure, sure," Giuliani said. "He was well aware that at some point when I saw the opportunity, I was going to get this over with."
Giuliani took that opportunity on Wednesday night. The morning after, Trump responded with an explanation that contradicted past statements.