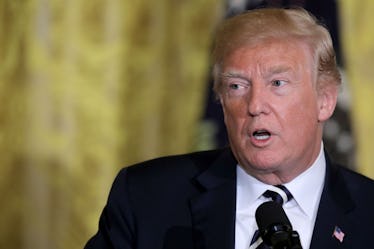 Donald Trump May Have Paid Back The Stormy Daniels Payment After All & I Can't
Chip Somodevilla/Getty Images News/Getty Images
The Stormy Daniels saga keeps on taking some new turns. On May 2, Rudy Giuliani, the former New York City mayor who joined President Trump's legal team in April, shared some new information about the scandal — which directly contradicted something President Donald Trump himself said back in April. Rudy Giuliani said Trump reimbursed the Stormy Daniels payment, and I'm getting really confused at this point.
On the evening of May 2, Giuliani went on Hannity and discussed the president's legal woes, including his ongoing legal battle with adult film star Stormy Daniels. Daniels, whose legal name is Stephanie Clifford, was reportedly paid $130,000 to stay quiet about an alleged affair she claims she had with the now-president in 2006, in a payment that some experts have speculated violated campaign finance laws. President Trump has repeatedly denied any affair.
"[That money] is going to turn out to be perfectly legal," Giuliani claimed in the interview. He continued on to claim that the money paid to Daniels was never campaign funds, and that in fact, the president had paid it — or at least, paid it back. He claimed,
That money was not campaign money. Sorry, I'm giving you a fact now that you don't know, it's not campaign money. No campaign finance violation. ... They funneled it through a law firm, and the president repaid it.
The White House referred requests for comment on the subject to President Trump's personal legal team, which did not immediately respond to Elite Daily's request for comment.
Giuliani further elaborated on his comment, claiming,
That was money that was paid by [Trump's] lawyer, the way I would do out of his law firm funds — or whatever funds, doesn't matter — and the president reimbursed that over the course of several months.
Which is real interesting, since the president has already said that he didn't know anything at all about the payment. On April 5, the president answered reporters' questions about whether he knew about the payment with a pretty blunt answer. "No," he said. Speaking aboard Air Force One, he added, "You'll have to ask Michael Cohen. Michael is my attorney. You'll have to ask Michael."
On Jan. 12, The Wall Street Journal reported that shortly before the 2016 presidential election, Trump's lawyer Michael Cohen had reportedly paid $130,000 to adult film star Stormy Daniels in exchange for her signing a non-disclosure agreement (NDA) preventing her from talking about an alleged affair with the now-president. At the time, Cohen said that he "vehemently denies" the report. But on Feb. 13, Cohen released a statement claiming that he paid Daniels out of his own pocket, characterizing the reported payment as a "private transaction." In that statement, he also denied that Trump had been involved in the reported payment at all. He said,
Neither the Trump Organization nor the Trump campaign was a party to the transaction with Ms. Clifford, and neither reimbursed me for the payment, either directly or indirectly.
So, which is it? Did Trump reimburse him or not? This is all over the place.
Elite Daily has reached out to Cohen's legal team for comment on this updated version of the story, but did not hear back.
Even messier, some experts quickly pointed out that a six-figure private payment to protect Trump from scandal during a presidential campaign could be viewed as a campaign contribution, and a violation of campaign finance law. Larry Noble, the general counsel for the nonpartisan group Campaign Legal Center, told NPR on March 25,
If Michael Cohen paid Stormy Daniels, and it was done for the purpose of stopping her to talk about this during the election, then it was an excessive contribution by Michael Cohen. And the campaign should have reported it as a contribution by Cohen and as an expenditure by the campaign.
On the other hand, as the Associated Press points out, if the payment came from Trump himself, out of his personal funds, then the payment would likely not be an illegal contribution, but could still violate campaign finance law.
Oh, and upping the mess factor even more: Sean Hannity, who conducted the interview with Giuliani tonight, has his own ties with the drama, as it was revealed on April 16 that Hannity was also a client of Michael Cohen. Hannity has said that his legal dealings with Cohen were "almost exclusively about real estate."
Illegal contribution or not, Trump's legal problems aren't over. Daniels is currently suing the president in two separate lawsuits, alleging defamation as well as claiming that the NDA which prevents her from discussing her alleged affair with Trump is invalid. The White House did not respond to Elite Daily's requests for comment regarding either lawsuit.
So where will it go from here? I'm going to go out on a limb and guess more drama. I feel like that's a pretty safe bet at this point, anyway.