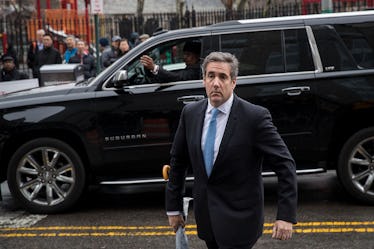 Another Client Of Trump's Lawyer Was Just Announced & I Am Floored
Drew Angerer/Getty Images News/Getty Images
On Monday, April 16, Michael Cohen, a personal attorney of President Donald Trump, was ordered to appear before the court at 2 p.m. ET Monday in New York. Michael Cohen's third client was confirmed during the proceedings. Cohen had been asked to provide information as a decision is pending about reviewing documentation seized during a raid of Cohen's office last week.
UPDATE: Sean Hannity reiterated in a pair of tweets at 4:30 p.m. ET Monday that Michael Cohen did not represent him. "In response to some wild speculation, let me make clear that I did not ask Michael Cohen to bring this proceeding on my behalf, I have no personal interest in this proceeding, and, in fact, asked that my de minimis discussions with Michael Cohen ... which dealt almost exclusively about real estate, not be made a part of this proceeding."
EARLIER: "Michael Cohen's previously unnamed third client is SEAN HANNITY," tweeted Erica Orden, politics reporter for The Wall Street Journal. Hannity, a conservative political commentator, is the host of his eponymous radio show and TV show on Fox News.
On Monday, Hannity denied having Cohen as an attorney. "Michael Cohen has never represented me in any matter," he said in a tweet. "I never retained him, received an invoice, or paid legal fees. I have occasionally had brief discussions with him about legal questions about which I wanted his input and perspective." In a second tweet, he added, "I assumed those conversations were confidential, but to be absolutely clear they never involved any matter between me and a third-party."
Per CNN, Judge Kimba Wood had summoned Cohen Monday for an emergency appearance before the court. At issue is whether to allow prosecutors to examine a host of items obtained during the FBI's conducted April 9, which included Cohen's hotel room and office. The officials, pursuing an investigation into payments made leading up to the 2016 presidential election, were specifically seeking documentation pertaining to Stormy Daniels and Karen McDougal.
Cohen also represents Elliott Broidy, a big-name fundraiser for the Republican party who paid $1.6 million to a Playboy model after she reportedly got pregnant during their alleged affair, according to The Wall Street Journal. Following this news, Broidy resigned from his role with the Republican National Committee (RNC) on Friday, April 13. In a statement, Broidy admitted to the affair and apologized to his family, per The New York Times, claiming that the woman — Shera Bechard — had decided to get an abortion. "[S]he alone decided that she did not want to continue with the pregnancy," Broidy said according to the Times, "and I offered to help her financially during this difficult period." Cohen reportedly arranged the payment for Broidy. Elite Daily reached out to Cohen's attorney for comment on this reported payment, but did not hear back at time of publication.
Los Angeles Times reporter Chris Megerian, citing a tweet from Hannity from April 11, points out that Hannity has used his platform to publicly delegitimize the investigation into Cohen. "[T]he media's anti-Trump agenda has hit a new low since the Michael Cohen raid," read Hannity's tweet.
Cohen, a fixer both for Trump and Broidy, has been in headlines for his roles in making agreements with various women who have alleged having affairs with the two men. Cohen also admitted to paying Daniels, an adult film star whose real name is Stephanie Clifford, $130,000 out of pocket in exchange for a non-disclosure agreement to buy her silence just before the election, though he said these payments were unrelated to the Trump campaign. Daniels claims to have had an affair with Trump in 2006, shortly after Trump's wife Melania gave birth to their son Barron. Trump and the White House have repeatedly denied the affair. Daniels has taken Trump to court to break the agreement, arguing that it's invalid because it was signed by Cohen and not the president himself. She is being represented by lawyer Michael Avenatti.
Meanwhile, McDougal is taking to court American Media, Inc., parent company of the National Enquirer, over a similar non-disclosure agreement she signed regarding an affair she alleged to have had with the president during the same period in 2006. Trump and the White House also denied the allegations of this affair.
Orden had been live tweeting proceedings of the court case Monday. Per her tweets, Cohen had given hints as to who his third client was without naming names, saying it was a "publicly prominent individual," giving the judge the name of his third client in a sealed envelope, she reports.
Per CNN, Trump's lawyers on Sunday requested copies of the materials seized in the FBI raid in order to give the president a chance to review them first, citing confidentiality.
One of the U.S. prosecutors, according to CNN, told the court Friday that a "filter team" of lawyers uninvolved with the case had been set up to objectively screen the materials to protect attorney-client privilege. "We are devoting a large amount of resources to the whole case but, in particular, to our filter team to get this review done very quickly," said prosecutor Thomas McKay.
It's unclear in what capacity Cohen did or did not represent Hannity and what bearing this will have on the judge's decision regarding the seized materials.