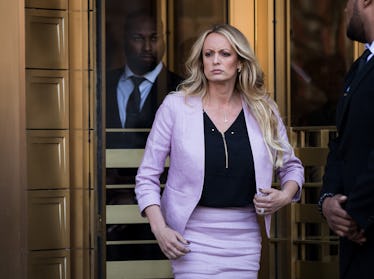 Stormy Daniels Is Suing Donald Trump For Defamation, So Break Out The Popcorn
Drew Angerer/Getty Images News/Getty Images
Folks, the saga of President Donald Trump and Stormy Daniels continues. I thought all the cards were on the table, and all I had to do was sit back and see how the whole situation unfolds in court, and boy, was I wrong. The story escalates. Stormy Daniels is suing Donald Trump for defamation, so strap in. Elite Daily reached out to the White House for comment on the suit and allegations of defamation, but has not heard back at time of publication.
Daniels, whose legal name is Stephanie Clifford, filed a lawsuit against Trump in Manhattan federal court on Monday, April 30, claiming he defamed her in an April 18 tweet in which he dismissed a composite sketch of the man Daniels claimed threatened her back in 2011, according to CNN. During a March 25 appearance on 60 Minutes, Daniels claimed that a man approached her and her infant daughter and threatened her to keep her quiet about an alleged 2006 affair with the president. Trump has previously denied the he had any sort of affair with Daniels at all, while Cohen's own lawyer said in a statement about Daniels' claims that "Mr. Cohen had absolutely nothing whatsoever to do with any such person or incident," adding that Cohen did not believe the alleged threats even occurred.
On April 18, Trump retweeted out a picture of the sketch which had been juxtaposed with a photo of someone described in the photo as Daniels' ex, calling it a "nonexistent man" and "a total con job." The president, of course, also took the time to fit in another stab at the "Fake News Media." He wrote, "A sketch years later about a nonexistent man. A total con job, playing the Fake News Media for Fools (but they know it)!"
Michael Avenatti, Daniels' attorney, claimed in the lawsuit that Trump calling Daniels' claims of being threatened a "con job" could be understood as Trump saying that Daniels is making the whole thing up, which is "prohibited under New York law."
Avenatti further claimed that Trump's "con job" tweet really meant to insinuate that Daniels is a "liar" and someone who "should not be trusted," hence the grounds for the defamation suit. Avenatti wrote,
Mr. Trump made his statement either knowing it was false, had serious doubts about the truth of his statement, or made the statement with reckless disregard for its truth or falsity.
This lawsuit is on top of the one which Daniels already filed against Trump and his lawyer, Michael Cohen, in order to try to get out of her non-disclosure agreement (NDA). The initial suit is over the $130,000 in alleged hush money reportedly paid to Daniels in 2016 in exchange for an NDA that bars Daniels from talking about her alleged affair with Trump. In that suit, Daniels claims that because Trump himself (under an alias) never signed the NDA, it should be considered void. Trump denies the affair and Cohen has claimed that he gave the money from his own pocket under his own volition, and that it was not related to the 2016 presidential campaign.
However, Daniels' first suit is on hold while Cohen is under criminal investigation for his business dealings by the Department of Justice (DOJ) after the Federal Bureau of Investigation (FBI) raided Cohen's home, office, safety deposit boxes, hotel room, and two cellphones on Monday, April 9, according to CNN. So, while that's underway we will have to just keep waiting for any sort of trial and verdict on the Daniels case.
What will happen then? It's anyone's guess. So, grab your popcorn and pull up a chair. It's sure to be a wild ride.