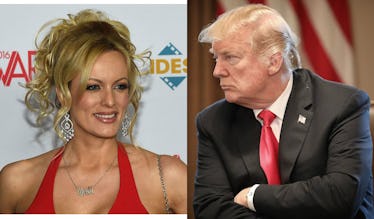 Trump's Tweet After Stormy Daniels' New Interview Is Not What You'd Expect
Ethan Miller/Win McNamee/Getty Images
Ahead of Sunday's highly publicized 60 Minutes interview with Stephanie Clifford (aka Stormy Daniels) about her alleged affair with President Donald Trump in 2006, the president, somewhat uncharacteristically, did not comment on the matter. He spent the weekend at Mar-a-Lago, also staying silent about the March For Our Lives. Early Monday morning, though, came Trump's apparent response to Stormy Daniels' 60 Minutes interview in the form of a relatively tame tweet.
"So much Fake News," the president said in a tweet the morning after the Daniels interview aired, though it's not clear if that was directly about that interview. "Never been more voluminous or more inaccurate. But through it all, our country is doing great!"
In an appearance on CBS This Morning, Daniels' lawyer, Michael Avenatti, noted that it was peculiar for Trump to have shown such restraint weighing in on the matter thus far.
"Isn't it interesting, Gayle [speaking to host Gayle King] that we have a president that will tweet about the most mundane matters," Avenatti said, "but he won't tweet about my client, the affair, the agreement or the $130,000 payment. You know why he won't tweet about it? Because it's true."
Trump and White House officials have denied that an affair ever happened.
Daniels said she felt compelled to set the record straight after reports surfaced of a $130,000 payment to silence her. That payment was reportedly made in 2016 by Trump's personal lawyer, Michael Cohen, to prevent Daniels from discussing the the alleged affair. (Cohen has said that he did pay Daniels $130,000, but that it was unrelated to the 2016 presidential election.)
Daniels filed a lawsuit earlier this month seeking to void the nondisclosure agreement, which her lawyer claims is invalid because Trump never signed it.
Among the more shocking allegations by Daniels was her claim that after telling her story to In Touch in May 2011, she was threatened by a man in a Las Vegas parking lot.
"A guy walked up on me and said to me, 'Leave Trump alone. Forget the story,'" Daniels told Anderson Cooper. "And then he leaned around and looked at my daughter and said, 'That's a beautiful little girl, it'd be a shame if something happened to her mom.' And then he was gone."
An attorney for Cohen (aka Trump's lawyer's lawyer), fired back almost immediately to reject Daniels' claim that she was threatened. The laywer, Brent Blakely, was apparently responding to specific claims made during the 60 Minutes interview in a letter sent to Avenatti, according to New York Times reporter Maggie Haberman. Blakely's letter reads,
I am writing in connection with the false and defamatory statements you and your client ... made on 60 Minutes this evening regarding Mr. Cohen, namely that he was responsible for an alleged thug who supposedly visited Ms. Clifford, while she was with her daughter, and made an alleged threat to [her]. In truth, Mr. Cohen had absolutely nothing whatsoever to do with any such person or incident, and does not even believe that any such person exists, or that such incident ever occurred.
Trump's first tweet of the day made no mention of "Fake News" or the Daniels interview at all. He touted the economy, saying that "the underlying strength of companies has perhaps never been better."
U.S. stocks bounced back early Monday morning, according to published reports, after experiencing their worst week since January 2016. Traders last week nervously reacted to Trump's proposal of about $60 billion on tariffs on Chinese imports, which prompted China to retaliate, hitting the United States back with $3 billion in import fees on certain American goods.
Even apart from the dip in U.S. stocks and 60 Minutes interview, last week's news cycle was particularly dense — Trump fired his national security adviser, he doubled-down on his transgender military ban, and, oh yeah, he threatened to veto next year's spending bill before ultimately signing it.
That's the Trump news cycle for you.