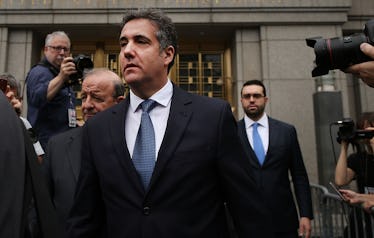 Here's What Michael Cohen's Plea Deal May Mean For Trump, According To An Expert
Spencer Platt/Getty Images News/Getty Images
On Tuesday, Aug. 21, the former personal lawyer, "fixer," and right-hand man to President Donald Trump turned himself in to federal prosecutors. Michael Cohen, in a hearing in New York City, pleaded guilty to charges of financial fraud and campaign finance violations. The question that's now on everyone's mind: What will Michael Cohen's plea deal mean for Donald Trump?
According to reports, Cohen pleaded guilty to eight counts on Tuesday, including to making payments in campaign finance law violations for payments he made to two women prior to the 2016 election to reportedly keep quiet about affairs they allegedly had with Trump. Trump has repeatedly denied the alleged affairs, though Cohen admitted to paying the $130,000 and saying that Trump did not know of the payment. Trump later said that he paid back the payment.
The payments, Cohen reportedly said, were made "in coordination and at the direction of the candidate for federal office," though he did not name that person. Elite Daily reached out to the White House for comment on Cohen's claim. Cohen also did not reportedly name to whom he made the illegal payments, but they are presumed to be former Playboy model Karen McDougal and adult film star Stormy Daniels. Trump and the White House have repeatedly denied having affairs with both women.
The guilty plea was formally confirmed when Cohen announced it in a hearing Tuesday afternoon. Earlier in the day, CNN reported that Cohen had entered into a plea deal with federal prosecutors for the Southern District of New York but was not expected to cooperate with them. After his hearing, per reports, Cohen faces up to five years and three months of jail time as part of his plea deal.
Cohen had been a subject of FBI investigation for its ongoing probe into possible collusion between the Trump campaign and Russia ahead of the 2016 election, as well as for those payments made in advance of the election. The FBI raided Cohen's New York office and residence in April on the referral of FBI Special Counsel Robert Mueller, who is overseeing the Russia investigation.
In an interview for Elite Daily, former federal prosecutor Renato Mariotti, who is not involved in the cases pertaining to Trump or Cohen, says the news has some clear implications for the president and his legal exposure.
"It's never good news when your client's former lawyer is pleading guilty to a felony, particularly one that involves your client," Mariotti says, referencing Trump's attorney.
In fact, the plea deal indicates that the prosecution is in a pretty favorable position. "As a prosecutor, what this means is you have a strong case, the defense is folding early," Mariotti says. "It's a good sign. This is the best possible result."
But, Mariotti points, out, Cohen has not reached a cooperation deal, which is favorable for the president and his legal team. "If it's true he doesn't have a cooperation deal, that's good for Trump because it means either Cohen didn't have anything of sufficient value to offer prosecutors, or wasn't willing to cooperate," he says.
But just because Cohen hasn't indicated a cooperation deal yet doesn't mean he won't agree to one in the future.
"It doesn't mean [Cohen's] refusing to cooperate; it means he's not getting a deal in exchange for cooperating," Mariotti clarifies. "If later on they need his cooperation, he could agree to do that in exchange for some benefit or [to appeal to a judge]."
If and when that time comes for Cohen remains to be seen.