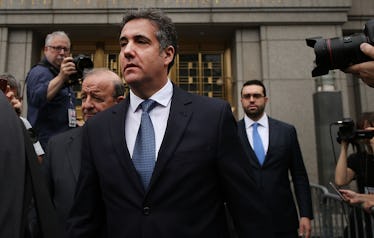 Michael Cohen Made A "Declaration Of Independence" From Trump So The Fight Is On
Spencer Platt/Getty Images News/Getty Images
The stories about President Donald Trump and his former, long-time attorney Michael Cohen just keep rolling in, but it looks like things might be getting really serious. OK, so you probably think nothing could be more serious than the FBI's raid on Cohen's offices on April 9, but that's only because you haven't heard about Michael Cohen's "declaration of independence" from Trump. Let this be all the validation you need to see where things might be headed in the saga between the two.
Cohen's attorney, Lanny Davis, opened up about the "declaration" on July 10 during an interview on The Hill's new daytime show Rising. He told the hosts that his client's statements to ABC News' George Stephanopoulos in a July 2 interview — wherein Cohen said his loyalty lies with his family rather than the president, which was in stark contrast to his previous claims that he would remain loyal to Trump — were his first act of separation.
"There's a reason that he said at the very end of the interview with Mr. Stephanopoulos that he took these contrary positions to Mr. Trump, who he previously said he would take a bullet for, a comment that I believe he would not say today," David explained. "The reason he said is, 'I will not be a punching bag as part of somebody else's defense strategy.'"
Davis added: "This was a declaration of independence two days before July 4."
Yeah, so it looks like the bromance is dead, folks, and the battle is on.
Cohen and Trump had previously seemed to be two peas in a pod. The lawyer had once vowed that he would "take a bullet" and "do anything" to protect the president, and Trump had publicly referred to Cohen as a "fine person" he had always been fond of. However, that all came crashing down back in April, when federal agents raided Cohen's office in relation to files regarding Trump's ongoing legal battle with adult film actress Stormy Daniels, who claims she had an affair with the president in 2006. Although Trump has repeatedly denied the alleged affair, Cohen has become the focus of a probe by the U.S. Attorney's Office for the Southern District of New York into potential bank fraud and campaign finance violations, according to The Washington Post.
In one of the most definitive signs that tensions are possibly deepening between Cohen and Trump in the wake of the lawyer's legal troubles, the joint defense agreement the two shared fizzled out in early July. The agreement, according to The Hill, had allowed both of the men's lawyers to share information with each other surrounding the controversial Stormy Daniels case.
Additionally, with Cohen's fate in limbo, speculation has also swirled that Cohen might flip on his former client and cooperate with prosecutors, especially because of some of his recent comments on his legal troubles. In the aforementioned interview with George Stephanopoulos, Cohen said he would surely put his family before anyone else.
He said, per ABC News, "To be crystal clear, my wife, my daughter and my son, and this country have my first loyalty."
And when asked how he would react if Trump or his legal team would come after him, Cohen added: "I will not be a punching bag as part of anyone's defense strategy. I am not a villain of this story, and I will not allow others to try to depict me that way."
Cohen had also previously signaled that he was game to flip on Trump, telling friends, according to Vanity Fair:
For a year and a half, I've been silent. What has silence gotten me? It's ruined my business. It's ruined my wife's life. It's ruined my children's lives. I've been a punching bag for everybody. Why am I going to continue to be silent?
So it looks like — in case it weren't already clear enough for us all — Cohen has drawn up his own declaration of independence from Trump as a final attempt to show that their drama might be about to take a drastic turn. Keep your eyes peeled, guys. This just got real.